Freemotion t10.9b Reflex Treadmill Review
Best Buy Award(s):
Serious Runners
Commercial
This Freemotion t10.9b Reflex Treadmill Review:
Price isn't a primary consideration.

You need an AC 5.0 HP motor that supports long distance running, interval training, and hill training.

You like bringing your own screen to the workout.
You like the freedom afforded by built-in workout programs.

You have room for a machine this size.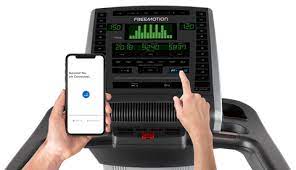 The Freemotion lineup of treadmills this year brings high-powered motors and solid engineering to the game. The t10.9b Reflex Treadmill does have a lot in common with it's sister the t22.9 Reflex, and there are indeed more differences than just price and screen size. Priced at $6,995, the t10.9 is significantly less expensive than the t22.9, but still up there at the top end of the luxury treadmills.
The first thing you'll notice with this model is it offers a simple user interface as opposed to a 22-inch screen. Customers can purchase a separate 15.6-console to along with, or affix their own tablet. I personally have my own home treadmill parked in front of a smart television and this is always an option too. That said, the t10.9b comes loaded to the hilt with 43 built-in workout programs. This is a blessing in a market place full of treadmills that nearly require use of a paid app. This model brings the option of a "Set a Goal Workout Center," has eight weight loss programs, eight for heart rate, eight speed intervals, three race training programs, eight incline programs, as well as the fitness tests for the U.S. Army, Navy, Marine Corp, Air Force, and more.
Freemotion is a member of the iFit family of exercise equipment, like NordicTrack and ProForm, meaning nearly all of its machines come enabled for that app. While the t10.9b doesn't come with a giant screen, don't let that fool you. The iFit app travels by way of many devices and can be used for workouts as varied as strength, High Intensity Interval Training (HIIT), and yoga. To read our review of the iFit package, check here.
The machine itself comes packing a 5.0 HP AC Commercial Drive motor, one of the most powerful on the market. There's no need to fear a burn-out with this one. Considering the price, you'll certainly expect quality and it's here for sure. The two-sided deck belt measures 21.5 inches by 60 and rides atop 3.5-inch spin balanced rollers, as opposed to 2.5-inch on most others. For hard core hikers, the t10.9b offers up to 15% incline and speeds up to 12mph.
Size-wise, this is a big'un. The unit assembled measures 87.7 by 34 by 66 inches and weighs 487 pounds. Maximum user weight is 400 pounds and it has a 12.2-inch step-up height. The warranty is low in my opinion with just five years for the frame and drive motor, five years for parts, console, and labor, with one year for cosmetic and wear items. Most rival treadmills these days offer 10-year warranties to lifetime. Bottom line, this is a great consideration for personal trainers with a home studio. If you're a home fitness enthusiast just wanting the occasional rainy day run, you might consider one of these other high-end treadmills built with that in mind.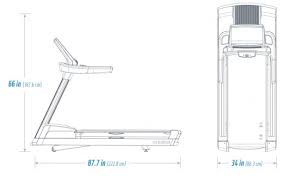 What We Like:
When I go to a gym, a treadmill is a must. I see a lot of positives with the t10.9b Reflex Treadmill. Some of the benefits it brings to the table include:
Powerful Motor: The AC 5.0 HP Motor is a big deal. Most rival units are in the 2.0 to 4.0 range and not AC. This kind of motor is capable of providing 1,500 pounds of lift force and won't burn out anytime soon.
Built-in Programs: With 43 built-in programs, you're not glued into a costly app. If you do like virtual training you can always use your own device or a television set. But 43 customizable programs is more than enough to keep users happy.
Spacious Deck: Measuring 21.5 inches by 60 inches, the 1-inch double sided deck is cushioned for comfort and support. This rides atop 3.5-inch spin balanced rollers, as opposed to 2.5-inch on most other models.
Incline and Speed: With 15% incline and speeds up to 12mph, users of any level can earn the burn here.
High Weight Capacity: The machine can handle up to 400 pounds in user weight.
Cool Runnings: The incline trainer has a three-speed, adjustable fan.
Heart Rate Monitoring: With EKG Pulse Sensors built-in, the incline trainer is also ANT+ and Polar compatible.
iFit Programming: In addition to thousands of existing programs, the iFit program brings live trainers into the home for workouts as diverse as running, biking, strength, and Yoga. Automatic trainer control means either the machine or trainer can adjust the resistance per the workout.
Bonus Features: With the Freemotion t10.9b Reflex Treadmill, users also get a phone and accessories tray as well as USB port for charging.
Freemotion t10.9b Reflex Treadmill Treadmill - Key Specs:
| | |
| --- | --- |
| Star Rating: | 3.8-stars |
| Motor: | 5.0 HP |
| Incline: | 15% |
| Running Area: | Double ply |
| Folding: | No |
| Top Speed: | n/a |
| Weight Capacity: | 400 LBS |
| Dimensions: | 87.7" L x 34" W x 66" H |
| Built-In Programs: | 43 and iFit |
What We Don't Like:
The Freemotion t10.9b Reflex Treadmill deserves high marks for quality. Here are a few potential drawbacks:

Price: At $6,995, this is probably best for personal trainers and small gyms.
Size: Weighing in at 487 pounds, customers should plan on solid flooring.
Assembly: Assembly will certainly take assistance with a unit this size. We recommend paying extra to avoid setting up this product yourself. This will save you a headache in the beginning and could also help you avoid problems down the line.
Warranty: For the price, I see a frame and motor warranty of five years as half the minimum. Most treadmills these days give at least 10 years on the warranty.
Our Verdict:
The t10.9b Reflex Treadmill is a heavy-duty treadmill with serious horsepower. With an AC 5.0 HP Commercial Drive motor, there's little chance you'll burn it out. The double-ply deck and 3.5-inch rollers also offer a promise of durability. Frankly, the biggest issue is the price. But if you're training clients than it would definitely pay for itself in less wear and tear. The lack of screen wouldn't be a big deal for trainers either. But, if you're just wanting a home treadmill for workouts on snowy days, I'd say keep shopping. If price is barrier, read here to see our review of the best high-end treadmills for other options, particularly the NordicTrack Commercial 2450.
Frequently Asked Questions
How much does the Freemotion t10.9b Reflex Treadmill?
The machine weighs 487 pounds. I'd strongly advise a ground-floor location with solid support for this machine.
Do I need the iFit program to operate the Freemotion t10.9 Reflex Treadmill?
Actually the machine comes with 43 built-in programs ranging from customizable to cardio.
Do I need my own screen for this treadmill?
The user interface works with the machine to display metrics like time and speed, as well the built-in programs. So no, you really don't need anything else .