Freemotion t22.9 Reflex Treadmill
Best Buy Award(s):
Serious Runners
High-End
This Treadmill Could Be For You If:
You train clients in your private studio or gym.

Price isn't a primary consideration.

You need an AC 5.0 Commercial CHP motor that supports long distance running, interval training, and hill training.

You like the iFit workout app.

You have room for a machine this size.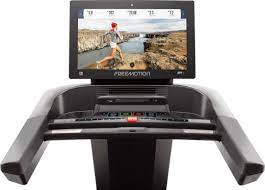 Leading the Freemotion's 2022 lineup of treadmills comes the t22.9 Reflex with prices starting at $11,999. If you're interested in serious cardio training and need the kind of support a 619-pound treadmill offers, this could be for you. And it does come loaded with features, as we'd expect from a higher-end brand like Freemotion.
Right off the bat, the t22.9 sports an AC 5.0 CHP commercial drive motor. For a brief review of treadmill motors, you can read our article found here. Rest assured, with an AC 5.0 you won't have to worry about burning the motor out during long runs, even if you're a larger athlete. The machine comes with a massive 22-inch HD touchscreen and 1-Step Incline and Speed Controls. This unit also features a television tuner and is Bluetooth-enabled. The manufacturer recommends using a dedicated Ethernet connection at Cat 6, Cat 5e or higher required. WiFi connection should be 2.4/5 GHz minimum.
With the t22.9, bigger actually does mean better. Part of the iFit family of exercise equipment, this treadmill comes designed to work with that app. As an iFit member myself, I can tell you the automatic trainer control and live trainer workouts are a real plus. I used iFit as a tool for cutting weight for the 2022 NPC Natural Indiana bodybuilding contest and slashed myself down from 212 to 165 pounds by contest time. Read up more on the iFit app in our review here. This app, like others, brings a virtual library of more than 17,000 video workouts, but also live sessions with real trainers in remote locations. Workouts are as diverse as one could imagine, and also include strength, biking, yoga, and Google Earth workouts. Priced at $39.99 per month for the family plan, the iFit program also brings ActivePulse heart rate workouts by way of Bluetooth armbands where the machine will adjust resistance to match a target rate. iFit-enabled machines such as Freemotion, NordicTrack, and ProForm all bring them automatic trainer controls. This means the device can be used on many different machines, or taken on the road with a mobile device. Nutrition plans, stored profile metrics, and customized AI-training are all part of the deal.
Measuring 87 inches by 34 inches by 66 inches, the machine weighs 619 pounds and can carry up to 400 pounds. Elevation goes up to 15% with top speeds reaching 15 mph. The 21.5-inch by 60-inch running surface is afforded by a two-sided belt atop 3.5-inch spin balanced rollers. Lower-priced models have 2.5-inch rollers, and this should definitely extend the life of the unit.
Additional comforts include an emergency stopping key, three-speed adjustable workout fan, USB charging port, dual water bottle holders, and phone holder. The t22.9 also has built-in EKG pulse sensors, ANT+, and is Polar compatible. Freemotion offers a 7-year warranty on the frame and drive motor, two years for parts and console, one year for labor, and six months for cosmetic items.  For more information, read the key points below.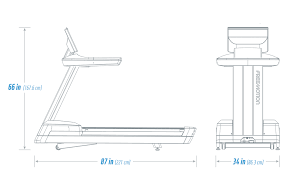 What We Like:
As an indoor cardio enthusiast myself, I see a lot of positives with the t22.9 Reflex Treadmill. Some of the benefits it brings to the table include:
Powerful Motor: Having an AC 5.0 CHP Motor means you can run long and hard here. This kind of motor is capable of providing 1,500 pounds of lift force.
Great Monitor: Measuring nearly 22 inches, the HD screen also features a television tuner.
Spacious Deck: Measuring 21.5 inches by 60 inches, the 1-inch double sided deck is cushioned for comfort and support. This rides atop 3.5-inch spin balanced rollers.
Incline and Decline: With 15% incline, runners and hikers alike can hit the virtual hills year-round.
Top Speeds: With a maximum speed of 15mph, you're unlikely to outgrow this incline trainer.
High Weight Capacity: The machine can handle up to 400 pounds in user weight.
Cool Runnings: The incline trainer has a three-speed, adjustable fan.
Heart Rate Monitoring: With EKG Pulse Sensors built-in, the incline trainer is also ANT+ and Polar compatible.
iFit Programming: In addition to thousands of existing programs, the iFit program brings live trainers into the home for workouts as diverse as running, biking, strength, and Yoga. Automatic trainer control means either the machine or trainer can adjust the resistance per the workout.
Solid Machine: Weighing in at 619 pounds, this is one sturdy unit. No wobbling or shaking here.
Bonus Features: With the Freemotion t22.9 Reflex Treadmill, users also get a phone and accessories tray as well as USB port for charging.
Freemotion t22.9 Reflex Treadmill - Key Specs:
| | |
| --- | --- |
| Star Rating: | 4.3-stars |
| Motor: | 5.0 HP |
| Incline: | 15% |
| Running Area: | Double ply |
| Folding: | No |
| Top Speed: | n/a |
| Weight Capacity: | 400 LBS |
| Dimensions: | 87" L x 30.0" W x 86.3" H |
| Built-In Programs: | iFit |
What We Don't Like:
In our review the Freemotion t22.9 Reflex Treadmill gets relatively high marks all around. Here are a few potential drawbacks:

Price: In the $12,000 zone, this is a high-end piece of equipment. It's not for the half-hearted user.
Size: Weighing in at more than 600 pounds, customers should plan on solid flooring. Again, this is probably best for serious athletes or personal trainers.
Assembly: Assembly will certainly take assistance with a unit this size. We recommend paying extra to avoid setting up this product yourself. This will save you a headache in the beginning and could also help you avoid problems down the line.
App Required: Like the rest of the iFit-enabled machines, the t22.9 Reflex Treadmill will work in manual mode without iFit, but users lose nearly all the benefits of the programs. The iFit membership typically runs $39 per month.
Warranty: For the price, I see a frame and motor warranty of seven years as a bit low. The parts and console are covered for two years, with labor for just six months. Lower-priced units offer 10 years or more on the frame.
Our Verdict:
The Freemotion t22.9 Reflex Treadmill is a high-priced, high-quality machine best suited for studios and small gyms. I wouldn't recommend this for the occasional jogger. Having a 5.0 CHP motor in a home treadmill is like parking a race car in the garage. If price is a barrier, read here to see our review of the best high-end treadmills for other options, particularly the NordicTrack Commercial 2450. These are considerably less expensive and offer great performance for the home. That said, if you are a personal trainer and want a dependable treadmill for the small gym, the Freemotion t22.9 Reflex Treadmill is worth a look.
Frequently Asked Questions
How much does the Freemotion t22.9 Reflex Treadmill weigh?
The machine weighs 617 pounds. I'd strongly advise a ground-floor location with solid support for this machine.
Can I assemble this myself?
Having assembled a treadmill or two, I'd recommend having help with this unit. The size of it will make two people a minimum when moving it into location. Otherwise, putting the pieces together is relatively simple and the instructions are easy to read.
Can I perform High Intensity Interval Training on this machine?
Absolutely! The Freemotion t22.9 Reflex Trainer is built for HIIT with a 15% incline and speeds up to 15mph.