Freemotion t8.9b Treadmill
Best Buy Award(s):
Serious Runners
High-End
This Treadmill Could Be For You If:
You train clients in your private studio or gym.

Durability is more important the price to you.

You need an AC 4.0 Commercial HP motor for the level of training you desire.

You don't mind a user interface as opposed to a HD screen for training.

You plan to use this machine a lot and will get the value.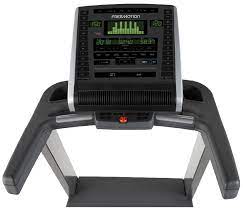 The Freemotion's 2022 lineup of treadmills starts off with the t8.9b Treadmill. Priced around $4,499 online, it brings with it a solid machine built for heavy usage. A little smaller and less flashy than it's brand-mates, the t8.9b has built-in programs and a motor powerful enough to keep you training long and hard.
The Freemotion brand is part of the iFit family of exercise equipment and this treadmill comes enabled for that app, just like NordicTrack, and ProForm. Equipped with a simple user interface instead of a large screen, the t8.9b doesn't require iFit to operate and users can always bring their own device, listen to music, or watch television. The interface displays metrics including speed, time, incline, distance, vertical feet, pace, calories burned, and heart rate. With 26 built-in programs, the treadmill offers a Set A Goal Workout Center, as well as more than two dozen other customized programs. These include the Fitness Tests for the U.S. Army, Navy, Marine Corps, and Air Force.
Measuring 81 by 36 by 60 inches and weighing in at at 358.7 pounds, the t8.9b has a step-up height of 6.7 inches and can support up to 400 pounds in user weight. It's a good sized machine for sure, and having assembled a treadmill or two I'd strongly recommend having some help with the process. The good news is, this treadmill is built to last and won't be wobbling around beneath your feet.
The drive motor is a 4.0 HP AC Commercial, which is more than enough to support hard usage by larger athletes. The two-sided deck measures 21.5 by 60 inches and rides atop 3-inch rollers, as opposed to the 2.5-inch types found on most treadmills. Elevation adjusts to 15% incline with speeds maxing at 12mph. The t8.9b features dual grip pulse sensors and a Polar wireless receiver for heart rate monitoring, and if users have an iFit membership they can incorporate the ActivePulse Technology as well. As an iFit subscriber myself, I've really come to like their heart rate programming and used it extensively when cutting weight for a bodybuilding contest in June of 2022.
Other comfort features include transport wheels, a safety key and clip, dual water bottle holders, and a removable eight-inch workout fan. The t8.9b treadmill comes with a seven-year warranty for frame and drive motor, two years for parts and console, one year for labor, six months for cosmetics.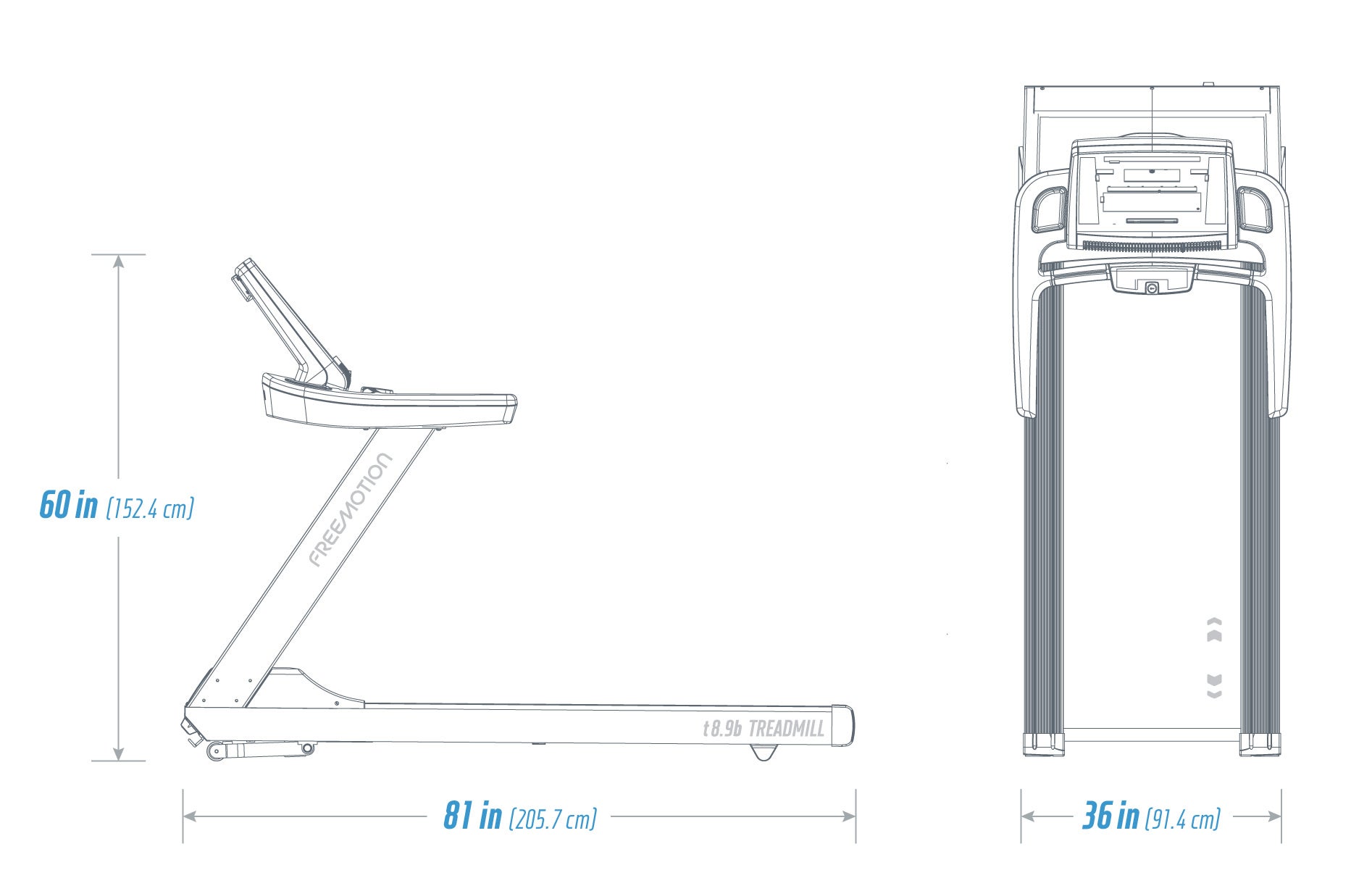 What We Like:
As with any equipment, there are pros and cons to the t8.9b. Ultimately, it comes down to what you're intending to do with it. Some of the benefits it brings to the table include:
Powerful Motor: Having an AC 4.0 HP Commercial Motor means you're unlikely to burn this out running hard. Smaller engines struggle with larger users or longer runs.
Not Locked into an App: No, the machine doesn't come with an interactive screen, but the good news is you have more freedom in choosing whether to use a fee-based app or not. Treadmills with screens designed to work with an app are all but useless if you quit that program.
Built-In Programs: The 26 built-in programs is a refreshing feature amidst newer treadmills which are app-dependent. With the diversity offered here, you really could just buy the machine and workout without extra fees.
Spacious Deck: Measuring 21.5 inches by 60 inches, the 1-inch double sided deck is cushioned for comfort and support. This rides atop 3-inch spin balanced rollers.
Incline and Decline: With 15% incline, runners and hikers alike can hit the virtual hills year-round.
Top Speeds: With a maximum speed of 12mph, you're unlikely to outgrow this incline trainer.
High Weight Capacity: The machine can handle up to 400 pounds in user weight.
Cool Runnings: The treadmill offers a removable fan.
Heart Rate Monitoring: With EKG Pulse Sensors built-in, this treadmill also comes with a Polar wireless receiver.
iFit Programming: It's there if you want it, and iFit is a great program. In addition to thousands of existing programs, the iFit program brings live trainers into the home for workouts as diverse as running, biking, strength, and Yoga. Automatic trainer control means either the machine or trainer can adjust the resistance per the workout.
Solid Machine: Weighing in at 358.7 pounds, this is one solid unit.
Bonus Features: With the Freemotion t8.9b Treadmill, users also get a USB port for charging.
Freemotion t8.9b Treadmill - Key Specs:
| | |
| --- | --- |
| Star Rating: | 3.7-stars |
| Motor: | 4.0 HP |
| Incline: | 15% |
| Running Area: | Double ply |
| Folding: | No |
| Top Speed: | n/a |
| Weight Capacity: | 400 LBS |
| Dimensions: | 81" L x 36.0" W x 60.0" H |
| Built-In Programs: | 26 |
What We Don't Like:
In our review of the Freemotion t8.9b Treadmill, here are a few potential drawbacks:

Price: At $4,499, this is a high-dollar treadmill best suited for a trainer in their own home studio. It's really not designed for the occasional jogger.
Size: With these measurements, you'll want to make sure you place this where it's going to be. Moving it about the home won't be easy.
Assembly: Assembly will certainly take assistance with a unit this size. We recommend paying extra to avoid setting up this product yourself. This will save you a headache in the beginning and could also help you avoid problems down the line.
Warranty: For the price, I see a frame and motor warranty of seven years as a bit low. The parts and console are covered for two years, with labor for just six months. Lower-priced units offer 10 years or more on the frame.
Our Verdict:
The Freemotion t8.9b Treadmill is a great entry-level model in a brand known for quality. If you're looking at this machine, you're either a hard core runner or perhaps a trainer with a home-based studio. At this price, I'd recommend those shopping for personal use consider the NordicTrack Commercial 2450. But if you are looking to train clients at home then this t8.9b might well return the investment.
Frequently Asked Questions
How much does the Freemotion t8.9b Treadmill weigh?
The machine weighs 358.7 pounds. It's a solid mid-sized treadmill.
Does the Freemotion t8.9b Treadmill have built-in programs?
Yes, the machine has 26 workout programs already built into it and these range from military testing to weight loss, as well as build-your-own.
Does this treadmill have heart rate monitoring?
Yes, in addition to built-in EKG sensors the treadmill offers a wireless Polar receiver.