HealthRider H110t Review
The HealthRider H110t Treadmill is a minor step down from the top-of-the-line H190t. Both units have
iFit Live™ Technology
, an
incline/decline
,
adjustable cushioning
and a
60″ track
. What's the difference between these treadmills? The H110t Treadmill in this review has a simpler screen and fewer built-in workout apps. Also, the drive is smaller but it's still 3.25 CHP. When it's not in use, this machine can be folded to save floor space.
New owners get lifetime protection on the frame and motor, five years of parts protection, and a generous two years of labor. If you buy the HealthRider H110t Treadmill for the sale price of about $1500, this warranty deal is definitely above average.
What We Like:

24 Workout Apps: The HealthRider H110t Treadmill can access endless personalized workouts if you have wireless Internet within range. It also has 24 workouts pre-loaded on the console. You can choose from four categories, each with six programs. The workout categories are High Intensity, Speed, Incline, and Calorie Burn.
iFit Console: iFit Live has helped sell plenty of treadmills. This technology connects your treadmill with the Internet, letting you virtually run along courses that you map with Google Maps, download new and personalized workouts, virtually train with famous fitness coaches, and compete in treadmill races against Facebook friends. You can also automatically chart your fitness progress and get customized nutrition tips.
8" Screen: This treadmill screen isn't as advanced as others, but it's easy to use and relatively large. An LED shows your speed, time, distance covered, heart rate and calories burned. The RaceTrack display gives a track-style overview too, which helps you visualize where you're at in a workout.
Incline and Decline: Tone muscles that you'd forgotten about! The HealthRider H110t Treadmill has a 3% decline and a 15% incline. This means that the track can tilt to challenge different muscles in your legs. It helps produce more dramatic results than when you exercise at a 0% grade. Also, it can be fun to use the incline/decline with iFit Live because the routes are based on actual terrain.
Full Track: This treadmill has a full 20″ wide x 60″ long track. It is spacious enough for almost runner to comfortably take full strides. The track is pre-stretched, two-ply and moves over large rollers. These factors all help reduce the rate of wear and tear.
Adjustable Cushioning: FlexStrideMAX is new and exclusive cushioning for HealthRider treadmills. You can adjust the level of cushioning to get a comfortable and energizing workout.
Motor: This unit has a powerful 3.25 CHP motor. The motor meets high safety standards, is specially balanced to be quiet, and has a thermal cut-off switch. It has a lifetime guarantee.
High Speed: The H110t Treadmill has a maximum speed of 12 mph. You can adjust the speed with a convenient one-touch button.
Heart Rate Monitoring: This treadmill includes a full BioLogic wireless heart rate monitoring system plus a dual-grip heart rate monitor.
Audio: Exercise for longer with your favorite tunes!The H110t has 3″ speakers and a USB power port for smartphones.
Capacity: The maximum user weight is 350 pounds (158 kilograms).
Folding: A patented Space Saver design and Easy Lift Assist make it easy to store the treadmill. Just push a button and the track will move into a vertical position.
Longevity: This treadmill is built to the same high standards as the pricier H190t. It has a durable frame, a commercial motor, and good track design. There are actually treadmills that are sold with 90-day warranties, but HealthRider offers much better protection here, as described below.
Warranty: This unit is sold with lifetime coverage on the frame and motor, five years of coverage for parts and wear items, and two years of labor. The HealthRider treadmill warranty is great if you buy the H110t on sale. If you pay $1500 for the machine, then you'll be paying less than $1/day for parts insurance over five years. The two years of labor is a great sign too; HealthRider isn't expecting breakdowns.
What We Don't Like:

This treadmill doesn't have "extras" that some people consider to be standard: a bottle holder, an accessory shelf and a workout fan.

Our Verdict:
We'd recommend the HealthRider H110t Treadmill to a wide range of customers. It is sized for walkers and runners alike, but it's not too bulky and is easy to fold. The programming variety and incline/decline ensure that you'll get an effective workout whether you're a beginner or an advanced runner. It arrives loaded with 24 workouts, and you can download countless more workouts designed by certified personal trainers. The H110t Treadmill also has a durable track with adjustable cushioning. This HealthRider easily earns a five-star review when it's offered on sale.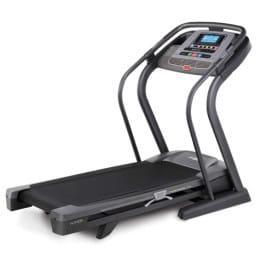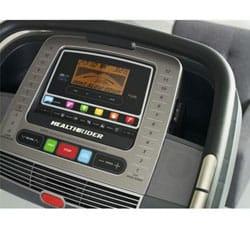 This treadmill is currently on sale
Other HealthRider Treadmill Reviews: