HealthRider H55t Review
The HealthRider H55t falls into the
low, low price
category. It is very affordable in the short term, but it's nothing like treadmills that cost a few hundred dollars more. This discount treadmill has a short life expectancy and isn't designed for intense training. It has a sale price of $699 and an MSRP of $1199.
Specs include a 55″ track, a maximum 10% incline, 16 workouts, a sound system and iFit Live compatibility.(To use iFit with the HealthRider H55t Treadmill, you'll need to spend an extra $100 or so for the module. You'll also need a yearly iFit Live subscription.) This treadmill can be folded upright to save floor space.
The H55t gets more customer complaints than the average treadmill. Big and important differences can be found between this unit and HealthRider's best treadmills, the H190t and the H110t. Granted, those cost about $1000 more.
 What We Like:

55″ Track: This treadmill is foldable yet it has a 20″ wide x 55″ long track. That's the standard track size for walkers. However, it's 5″ shorter than treadmills meant for runners.
Built-In Workouts: Sixteen workout routines are included. You can choose from eight calorie-burn workouts and eight distance training workouts. To override the set challenge level, you can adjust the treadmill's speed or incline with convenient buttons.
iFit Compatible: Besides having built-in workout programs, the H55t Treadmill is compatible with iFit Live. (The iFit wireless kit and yearly subscriptions cost extra.) iFit Live uses your home's wireless Internet connection to interact with iFit.com. You can download customized treadmill workouts daily! Some other possibilities with iFit: get personalized nutrition advice, track your progress online, race against Facebook friends, and virtually experience Google Maps routes.
10% Incline: The H55t Treadmill has an automated maximum incline of 10%. Training at even a 5% grade is an excellent way to dramatically increase your metabolic rate and develop great muscle tone; this is a big theme of the weight loss TV show The Biggest Loser. You can control the incline yourself or let the built-in treadmill programs and iFit workouts control the track's rise and fall. If you get iFit Live, you can also virtually experience any land route that's been charted with Google Maps.
6" Screen: A 6″ screen shows speed, time, distance, pulse and calories burned. A digital racetrack graphic indicates your progress through each workout.
High Speed: The H55t Treadmill has a top speed of 12 mph. You can adjust the speed with a one-touch control.
Sound System: The H55t has 2″ speakers by Intermix Acoustics. You can stream MP3s and charge your smartphone with the treadmill's USB power port.
Motor: This unit's 2.25 CHP Endura motor is adequate for walkers. It isn't one of HealthRider's better motors though; the others have lifetime guarantees. This motor has a 25-year guarantee.
High Capacity: The user weight limit is 300 pounds.
What We Don't Like:
The HealthRider H55t Treadmill has significant shortcomings. A common complaint is that its plastic feet break and take too long to replace; for a while the feet weren't even being manufactured. Here are other factors behind our two-star treadmill rating.

Warranty: The H55t has one of HealthRider's shortest warranties. Treadmill motors usually have lifetime guarantees but this one has a 25-year guarantee. Other HealthRider treadmills have five-year parts warranties, but the H55t has a one-year parts warranty. Repairs are free for the first year but customers report that replacement parts sometimes aren't available.
Cheap Heart Rate Monitoring: A grip system is included to measure your pulse. The monitor is conveniently built into the handlebars, but it might not be useful. Customers have observed that it's inaccurate.
So-So Cushioning: This unit gets FlexStride cushioning. Running on this cushioning is of course better than running on concrete, but you could do better. The HealthRider treadmills meant for runners have adjustable FlexStrideMAX beneath their tracks.
iFit Expense: iFit is part of this treadmill's appeal, but the module and a year's subscription could cost about $200. It might be preferable to buy a treadmill that already has iFit set up and displays programming on a more high-end screen.
No Console Extras: This treadmill definitely doesn't feel like a health club fitness machine. The cushioning is light and you won't get conveniences such as a drink holder, an accessory shelf or an exercise fan.
Our Verdict:
The HealthRider H55t Treadmill has a low price but isn't a bargain in the long run. We might recommend it to people who only intend to stroll, but we're not even confident that it will arrive with all components intact.
Very few treadmills are sold new for less than $700. When they cost under $1000, generally important corners have been cut. A better cheap treadmill though is the Horizon T101-04, which is on sale for $799.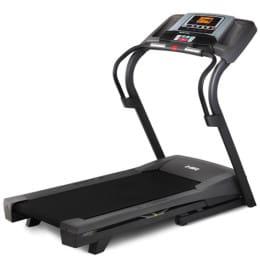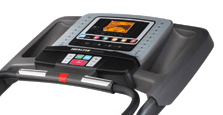 This treadmill is currently on sale
Other HealthRider Treadmill Reviews: