LiveStrong 16.9T
Update:
This model has been discontinued. To find a suitable replacement, check out our
treadmill finder here
.
LiveStrong treadmills are manufactured by Johnston Health Technology and endorsed by professional biker Lance Armstrong. A percentage of profits are donated to LiveStrong's Lance Armstrong Foundation, which advocates for cancer survivors.
The LiveStrong 16.9 T is the LiveStrong brand's premium home treadmill. It retails for $1699 while the brand's entry-level model, the 7.9 T, sells for $799.
What We Like
Track: With a 60"x20" track, the LS 16.9 can accommodate the long strides of most runners.
Warranty: This treadmill is sold with a lifetime warranty on the motor and frame, a five-year warranty on parts, and a two-year warranty on in-home labor.
User capacity: The LiveStrong 16.9 T's user capacity of 400 pounds exceeds that of most home treadmills.
Console: LiveStrong consoles are simple but sleek with easy-to-read LCD displays, built-in cup holders, and reading racks. Extra controls on the handrails allow easier mid-stride adjustments to speed and incline.
Fitness Journal and exercise programs: With LiveStrong's Fitness Journal system and 12 built-in exercise programs, you can compare results with your personal best and with five previous workouts.
Audio: LiveStrong treadmills come with speakers and an audio port that's compatible with iPods and other MP3 players.
Motors: With a 3.25 HP motor, this home treadmill can hold its own with industrial models.
Warranty: LiveStrong 16.9 home treadmills include lifetime warranties on the motor and frame, five-year warranties for other parts, and two years of in-home labor.
What We Don't Like

Short history: LiveStrong treadmills have only been on the market since 2009, so one can only guess whether the machines will endure over the long run. Still, the excellent warranty package on the 16.9 should instill buyer confidence.
Our Verdict
The LiveStrong 16.9 treadmill gets consistently strong reviews for great basics: a strong motor, a long track, and a user-friendly console. Added value comes from the iPod-compatible dock and a Fitness Journal system. Topped off with a generous warranty package, the 16.9 looks like a great investment.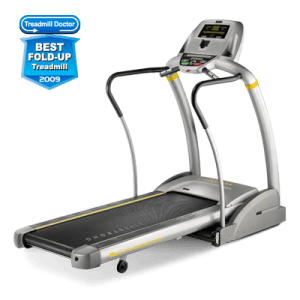 Find other LiveStrong Treadmills currently on sale.