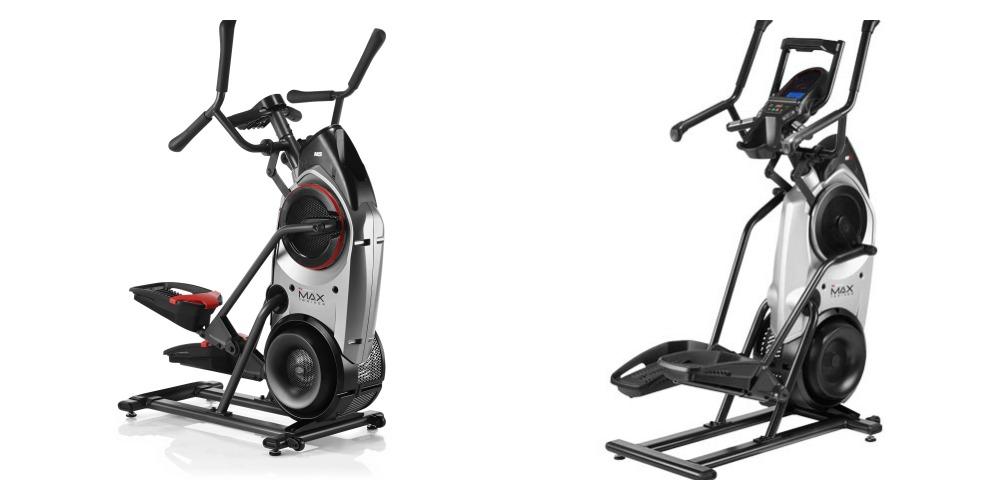 If you're in the market for a Bowflex Max Trainer, there are many points of consideration. First, are you someone who is going to be exercising on a daily basis? Are you looking to push the barriers of your workout routine? Are you someone who is interested in seeing what all you can achieve from a fitness point of view?
This will all go into determining which Bowflex Max Trainer model is best suited to your own unique needs and preferences. Keep in mind that all of the Bowflex Max Trainer models are higher end machines, so regardless of which you choose you will get in a great workout.
Deciding which machine is the better option for you all comes down to your own unique needs and preferences. Let's go over the options for you so that you can make a wise choice.
A Comparison Of The Bowflex M5 Vs. M6
| | | |
| --- | --- | --- |
|   | M5 | M6 |
| Price | $1599 | $1699 |
| Dimensions | 46.1"L x 25" W x 62.9" H | 49" L x 30.5" W x 65.5" H |
| User Height | Machine height + 15" | User height + 15" |
| Max Weight | 300 lbs. | 300 lbs. |
| Warranty | 2 years | 3 Years |
| Resistance Levels | 16 | 16 |
| Connectivity | Up to 2 users | Up to 2 users |
| Program Features | Various program features including Max 14 interval, power interval, calorie goal, steady pace, fat burn, calorie burn, stairs, manual, and fitness test | Various program features including Max 14 interval, power interval, calorie goal, steady pace, fat burn, calorie burn, stairs, manual, and fitness test |
| Heart Rate Monitor | Integrated hand grips coupled with chest strap if preferred | Integrated hand grips coupled with chest strap if preferred |
| Handles | Multi-Grip dynamic handles | Multi-grip dynamic handles |
A Deeper Comparison
Now that you have that brief overview, let's take a deeper look at all these features and what it means for you.
Fitness Progression
First let's begin our discussion with which machine allows for the best overall fitness progress.
The M6 and M5 both come with 16 levels of resistance, which is still quite a good number and higher than some of the earlier machines such as the M3, but if you really want to push it the max and are a heavier user to begin with (keep in mind heavier users will typically require higher resistance levels because they have more weight force helping them push through the resistance), then stepping it up to higher levels of the Bowflex machines may be warranted. Think of the M5 and M6 as the middle ground. They're great for intermediate trainees, but probably won't offer enough for elite individuals.
Max Weight
Maximum weight is another factor to take into account as this can tell you how stable the machine is. Both the M5 and M6 are rated to 300 pounds, so that's going to give you an excellent user experience there. While there may be no difference between these two directly, if you compare this to other machines that are of a lower max weight, that is where you will really notice a major difference taking place.
Lightweight machines just feel wobbly to be on and you may find break down a lot more easily as well. Their build isn't nearly as solid, thus there leaves open the opportunity for cracks in the frame when enough force is applied.
Comfort And Ease Of Use
One big consideration that cannot be overlooked when choosing any piece of fitness equipment is the comfort and ease of use. You want to step on that machine and instantly feel at home and like you can focus on the workout – not on trying to make your body move.
If the movement pattern doesn't come naturally because the machine is not built ergonomically to your stature, you aren't going to have the best of workouts at any point.
Luckily, all of these Bowflex Max Trainer machines are built for comfort. They have roomy foot pedals that will keep your feet in place and have a comfortable stride for users of most average height levels. If you are verging on the extremes (less than 5 feet tall or greater than 6 feet tall), then you may run into issues, but this will be the same with almost any machine you purchase.
Because the M5 and M6 share the same overall build design, you probably won't find much of a difference in comfort and ease of use going between the machines so this is not going to factor into your purchasing decisions. Both machines should be quite comfortable for most users however, so it needed be a concern on your end.
Warranty
One point to consider is the warranty that comes with each machine. Warranty should never be overlooked, yet too often it is by many people.
The good news is that the Bowflex Max Trainer M5 and M6 both come with a good warranty of 2 years for the M5 and three years for the M6.
Three years warranty is great coverage and will help give you the peace of mind that if your machine breaks anytime soon, it's well covered. Considering repairs can easily run into the 300-500 range, when you break this up per year, it's very reasonable. Suddenly the price of the machine doesn't seem so high. It's also a good reason why you may want to look at the M6 instead of the M5 if you are considering these two models specifically. The extra year warranty is well worth the $100 price difference.
Target Audience
So all in all, who are these machines built for? Each of these machines has a good range of resistance levels, programs built in, and usability, so they're all great for beginners, and intermediate users.
No matter which Bowflex Max Trainer you're looking at, you'll be making a great decision but do keep these points of difference in mind as you choose where to invest your money.