Horizon T101 Review
Best Buy Award(s):
For Walkers
Cheap / Budget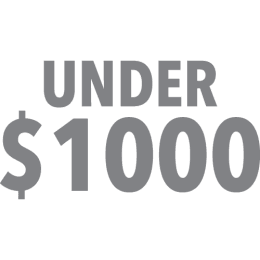 Under $1,000
I Recommend This Treadmill For You If:
You're looking for a budget-friendly, entry-level treadmill. 

You want a treadmill with a respectable warranty.

You're new to fitness and want to focus on light to moderate workouts or walking routines.
Finding a way to stay consistent is a primary goal as I help my personal training clients develop their fitness regimens. When making it to the gym simply isn't a viable option for whatever reason, I encourage investing in equipment. Let's face it, though. Buying a new treadmill can be a tough one to fit in the budget. Horizon Fitness distributes low-cost treadmills and other home fitness equipment without compromising on quality.
Their entry-level T101 treadmill comes in at just $649, making it one of the best-selling models in the industry. It's an ideal  treadmill for those who prefer walking or light to moderate workouts and are looking for a machine with a compact, foldable design that can be stored easily. Some of its best features include an incline, a Bluetooth speaker system, five built-in workout programming options, and a respectable warranty.
Further sweetening the deal, Horizon now offers financing options on their treadmills, so if you're on a tight budget, you can still get a quality machine from a recognized brand without paying the full cost upfront.
Although the T101 is Horizon's best-selling model, the brand also offers higher-end treadmills such as the Adventure 3, Elite T5, Elite T7-02 and Elite T9-02, which are worth taking a look at if you can increase your budget. 
What I Like:
Price: Horizon treadmills are my go-to when recommending treadmills to my clients with smaller fitness budgets. Although the T101 was launched with an MSRP of $999, it now sells for just $649 online.
Quiet: The Horizon T101 typically runs about 59 decibels at 5 mph, which would be comparable to a normal conversation between two people sitting three feet apart. It doesn't hit but 73 decibels at 10 mph, which would compare to the noise you'd perceive from an air conditioner 100 feet away. It's among the quieter treadmills on the market. 
Warranty: The T101 has a respectable warranty for a machine in its price class, offering lifetime coverage on the frame and motor and one year on parts and labor. Overall, this is a good deal for a treadmill with its price tag. 
Audio: Studies have shown that hearing your favorite song can give you an extra burst of energy, and I always encourage my clients to create a power playlist to take workouts to the next level. The updated Bluetooth speaker system makes it easy to listen to podcasts and stream music as you work out, helping routines fly by.
Exercise programs: The T101's five built-in workout programming options are enough to keep beginners challenged. The 30 programs offer time, distance, and calorie targets as well as manual, interval, and weight-loss workouts.
Financing: With approval, you can get 6, 12, 18 or 24-month, 0% APR plans to help pay for your treadmill gradually.
Incline: To help make workouts more efficient, the T101's track can incline up to 10%. Feel the burn!
Heart rate monitoring: You can easily monitor your pulse with the T101's dual-grip monitoring system.
Console: Horizon consoles are user-friendly and good looking. The T101's gray console has three data windows with red LED lighting as well as a cooling fan to keep you comfortable.
Portability: The T101 can be folded for easy storage and transport.
Stability: Unlike many other budget treadmills, the T101 can support up to 300 pounds.
Horizon T101 Treadmill - Key Specs:
| | |
| --- | --- |
| Star Rating: | 4.05-stars |
| Motor: | 2.5 HP |
| Incline: | 0 - 10% |
| Running Area: | 20" x 55" |
| Folding: | Yes |
| Top Speed: | 10 MPH |
| Weight Capacity: | 300 LBS |
| Dimensions: | 70" L x 34" W x 55" H |
| Built-In Programs: | 30 |
What I Don't Like:
Short track:

Although the 20-inch x 55-inch tread belt is a great improvement from the Evolve SG's tiny 17-inch x 45-inch running area, it's still not long enough for tall exercisers. I'd recommend spending about $200 more on Horizon's

T202 treadmill

, which has a 60″ track.

Motor:

The T101's 2.5 CHP motor is suitable for walking and jogging but won't cut it for hardcore runners. What's more, it only supports speeds up to 10 mph. You might find that a machine with a larger motor will provide a smoother experience.

Cushioning:

The T101's cushioning is okay but nothing to write home about. If you plan to use your treadmill primarily for jogging, consider opting for Horizon's

Elite T5

instead; it offers a better drive system and display complete with a warranty that will pay off in the long run.
My Verdict:
The T101 is ideal for someone at the start of their fitness journey or for those who prefer light to moderate workouts. It's easy for me to recommend the T101 to just about any of my clients on a budget with the variety of programming options. The Fat Burn program is excellent for weight loss clients while my endurance athletes enjoy the My First 5K, Distance, and Heart Rate training. Bluetooth speakers make streaming your motivating workout playlists seamless, and the warranty offers good coverage for the cost.
Although the Horizon T101 rates above average for a machine in its price class, don't be misled. It's great for what it is: a budget walking treadmill. If you're on the hunt for a cheap treadmill that's a bit more advanced, check out the Horizon Adventure 3 or Elite T5.
PROS
Budget-friendly
Built-in programs
Portable
Good warranty for price
CONS
Short track
Top speed 10 mph
What's Changed For This Year
Each year a few models get upgrades. Larger screens, stronger motors, or better tech are common. Occasionally you will see two treadmills with the same name on the manufacturers site, which is confusing enough for us treadmill experts, let alone a new consumer. Below is a quick breakdown of what is new on the latest version of this treadmill.
New for 2022 
Price Drop: Price dropped from $849 to $649
About the Author
Jessica is a NASM-certified personal trainer and nutrition coach who also holds her MBA with a focus in internet marketing. When she's not working with clients, she's usually at her local YMCA where she teaches classes for all ages from seniors in the Silver Sneakers group all the way to college and high school students in high intensity interval training, endurance weightlifting, and steady state cardio.
Recent Updates
July 13, 2021: Added some FAQs to the page.
July 28, 2021: Added specs tested regarding the low noise level.
October 21, 2022: Updated FAQs, added pros and cons table, updated new pricing information.
Horizon T101 FAQs
Where should I buy the Horizon T101 treadmill?
Buying your treadmill directly from Horizon Fitness online is usually the cheapest option after considering online discounts, free standard shipping and consumer protections.
How much does the Horizon T101 weigh?
Horizon's T101 weighs 165 lbs. and has a maximum user weight capacity of 300 lbs.
How do the Horizon T101's programs work?
The T101 has nine different workout programming options including time, distance, and calorie targets as well as manual, interval, and weight-loss workouts.
How many workout programs does the Horizon T101 have?
30 built-in workout programs
Is the Horizon T101 good for running?
The 2.5 CHP motor is suitable for walking and jogging