Horizon Fitness specializes in budget-friendly, in-home fitness equipment. When it comes to treadmills, Horizon offers affordable alternatives to brands like Matrix Fitness and Vision Fitness that sell higher-end treadmills for home gyms and health clubs starting at around $2,500. 
That said, much like Vision and Matrix, Horizon also offers the option to try virtual reality workouts on all its Passport-enabled treadmills. With the Passport Player's Virtual Active programming, you can virtually experience running paths around the world. As you walk or run through the location you are watching on your home TV, your treadmill auto-adjusts its incline to reflect the terrain. The technology allows you to mix up your workout with a variety of destinations across the globe from the Canadian Rockies to the French Riviera, or the California Desert to the Italian Alps. Each Horizon treadmill also offers a minimum of 30 classic on-board training programs, which is good if you don't want to pay for extra workout technologies. 
Sale prices for Horizon treadmills range from $599 for the T101 to $1,999 for the Elite T9-02. Warranties on the parts range from one to five years depending on the machine in the full lineup, which includes:
All Horizon treadmills are foldable, and the first two models in this lineup are primarily designed for walking. The T7-02 and T9-02 are the best models in the range for running, featuring extended tracks for comfortable running strides. To visually compare all the Horizon treadmills, see our comparison chart below for a quick overview of track dimensions, motor power, and other crucial specs.
Check out our Horizon Fitness Comparison Chart: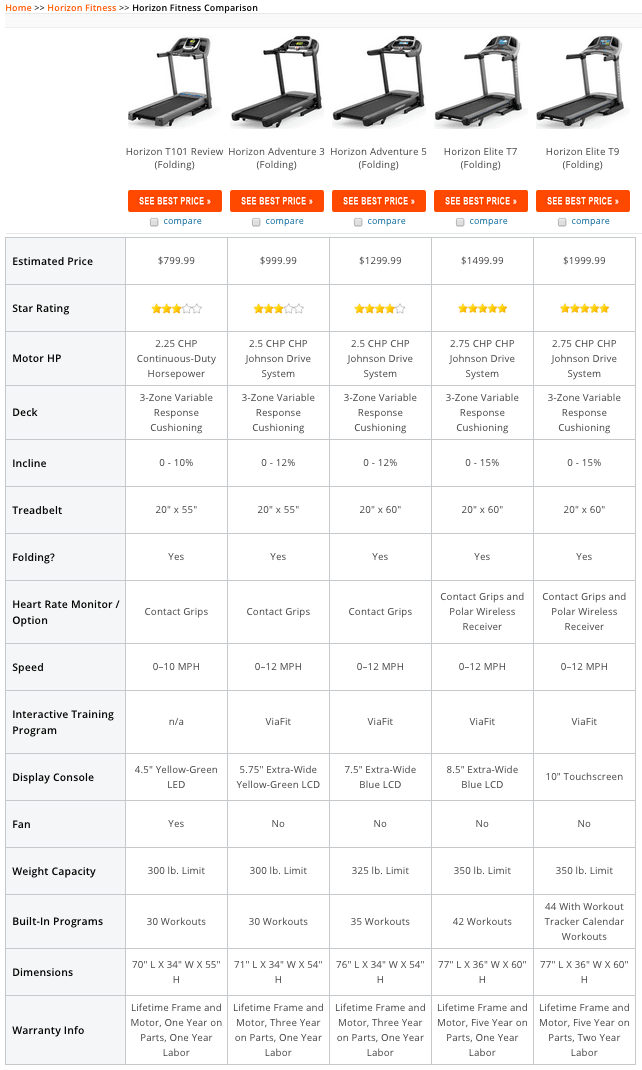 What We Like:

Price Point:

Horizon treadmills offer an affordable price point that most home-gym shoppers will appreciate. If you're just starting your fitness journey, you probably don't want to spend a small fortune on a machine; Horizon is the perfect place to start. The cheapest option, the T101, can be found on sale for just $

599

, and from there you can move up to the Elite T9-02 model which is priced at $1,999 and offers a five-year warranty on parts and 2 years on labor.

Passport Player:

Many of Horizon's machines are Passport ready. This means you can use a

Passport Player with Virtual Active programming to

take control of your treadmill's incline and experience a workout session that syncs with the rise and fall of a landscape you choose to virtually explore. There's a whole host of locations to try, from colorful autumn forests to national parks and city streets. The video footage 

syncs with your treadmill to deliver different intensities, inclines, and speeds throughout your workout to bring your walk or run in that location to life

. 

Simply plug the Passport Player into your home TV's HDMI port to wirelessly connect to your treadmill console, and get exploring.

Program Variety:

It's hard to get bored on a Horizon treadmill. While the workout programming options vary by machine, the higher level machines offer up to 42 preset exercise programs focusing on distance, calorie burn, heart rate control and much more. This adds tremendous variety to your workouts and allows you to target different areas of the body each time.

Roomy Track Size:

Roomy track size is important for runners, and Horizon does not disappoint in this regard. With their lengths ranging from 55 to 60 inches, there's a machine to suit everyone. 

Variable Response Suspension:

This means that you'll get varying levels of cushioning depending on where you are on the treadmill, which allows for the optimal overall shock absorption.

Incline:

Horizon offers power inclines on its treadmills between 10% and 15% depending on the model. This is great news for anyone hoping to burn more calories, tone their leg muscles, add cardio fitness, or enhance their resting metabolic rate.

Folding Capabilities:

Working out in a small space? Horizon has got you covered. You can easily fold up all of their treadmills for storage with the help of their FeatherLight hydraulic system which makes moving the treadmill into its vertical position a breeze.

High Weight Limits:

These treadmills are able to support users up to 350 pounds, providing a sturdy build despite the light, easily foldable design.

Easy Media Access:

Every Horizon treadmill in the current lineup comes with a tablet rack or

multi-position tablet holder

as well as built-in speakers (which are bluetooth on some models), bringing a whole host of entertainment options to your workout. Many of the models across the range also offer USB charging ports.

Data Sharing:

Horizon's ViaFit-enabled machines can

 share your workout data with your fitness apps and other tracking devices, so you never

need to manually log a workout again. It's a really

 helpful tool for monitoring your progress and working towards long term fitness goals.    

Excellent Warranty Coverage: Warranty packages vary between models, but Horizon is generally quite generous when it comes to warranties and ensure their customers are taken care of.
What We Don't Like:
Phone Wait Time

: Horizon's customer service agents are friendly and knowledgeable, but reaching one can take quite a while.

Thin Decks

: These machines have thin decks, so they aren't the best at absorbing sound.

Small Rollers:

Horizon's cheapest treadmills have shorter warranties partly because their belt rollers are small. Smaller rollers put more strain on the belt system. Rollers on the T101 are just 46mm/42mm in diameter whereas those on the Elite T9-02 are 2.4″, approaching commercial quality.

No Workout Downloads

: Many other treadmill brands provide downloadable workout programs to your machine. W

ith Horizon treadmills, you will either have to watch workout videos on your tablet or pay for the Passport Player if you want an interactive workout option that works with your home TV. Another brand to consider is

NordicTrack

, which lets you download interactive iFit Coach workouts to treadmills in all price brackets. 
Our Verdict:
For buyers with small to medium budgets, Horizon treadmills offer good value for money. The compact T101 in particular is one of our best buys for under $1000, as although it saves on horsepower and track space, it benefits from other features not normally found in its price range.
Serious runners who train more regularly and intensely should look towards Horizon's Elite Series; these machines are large and powerful enough to accommodate the everyday runner's workout needs. These cardio machines won't last as long as more expensive options on the market, but they will keep users happy over years of training sessions.