Horizon Fitness Treadmill Reviews
Horizon Fitness specializes in budget-friendly, in-home fitness equipment. When it comes to treadmills, Horizon offers affordable alternatives to brands like Matrix Fitness and Vision Fitness that sell higher-end treadmills for home gyms and health clubs starting at around $2,500. 
Pros:
Price Point:

Horizon treadmills offer an affordable price point that most home-gym shoppers will appreciate. If you're just starting your fitness journey, you probably don't want to spend a small fortune on a machine. Horizon is the perfect place to start. The cheapest option, the T101, can be found on sale for just $

599

, and from there you can move up to the 7.8 AT model which is priced at $1,999 and offers a five-year warranty on parts and two years on labor.

Rapid Sync Motor Tech: All of the Studio Series treadmills from Horizon use a new breed of electric motors Horizon has dubbed Rapid Sync. This allows the treadmill's motor to speed up and slow down faster than the competition, which is great for high intensity interval training.
Program Variety:

Between the ability to connect to various training apps and the inclusion of a broad range of on-board training programs, it's hard to get bored running on any of Horizon's treadmills.

Roomy Track Size:

Roomy track size is important for runners, and Horizon does not disappoint in this regard. With their lengths ranging from 55 to 60-inches, there's a machine to suit everyone. 

Variable Response Suspension:

This means that you'll get varying levels of cushioning depending on where you are on the treadmill, which allows for the optimal overall shock absorption.

Incline:

Horizon offers power inclines on its treadmills between 10% and 15% depending on the model. This is great news for anyone hoping to burn more calories, tone their leg muscles, add cardio fitness, or enhance their resting metabolic rate.

Folding Capabilities:

Working out in a small space? Horizon has got you covered. You can easily fold up all of their treadmills for storage with the help of their FeatherLight hydraulic system, which makes moving the treadmill into its vertical position a breeze.

High Weight Limits:

These treadmills are able to support users up to 350 pounds, providing a sturdy build despite the light, easily-foldable design.

Easy Media Access:

Every Horizon treadmill in the current lineup comes with a tablet rack or

multi-position tablet holder

as well as built-in speakers (which are Bluetooth on some models), bringing a whole host of entertainment options to your workout. Many of the models across the range also offer USB charging ports.

.    

Excellent Warranty Coverage: Warranty packages vary between models, but Horizon is generally quite generous when it comes to warranties and ensures their customers are taken care of.
Cons:
Phone Wait Time

: Horizon's customer service agents are friendly and knowledgeable, but reaching one can take quite a while.

Thin Decks

: These machines have thin decks, so they aren't the best at absorbing sound.

Small Rollers:

Horizon's cheapest treadmills have shorter warranties partly because their belt rollers are small. Smaller rollers put more strain on the belt system. Rollers on the T101 are just 46mm/42mm in diameter whereas those on the Studio series treadmills are a fair bit larger.

Basic Consoles: Due to the choice of relying on third-party apps for streaming services, the consoles on Horizon treadmills are not the same slick touchscreen units seen on many other machines throughout the industry. This isn't necessarily a bad thing, as simple tech still gets the job done, but it's something to keep in mind.
What to Look for When Shopping for a Horizon Treadmill
Programming
Rather than going the route of creating their own interactive/streaming training programming, Horizon takes the brand-agnostic approach, meaning they provide users the opportunity to sync up with a variety of training apps including Studio, Peloton, Aaptiv, Daily Burn, and others.
It's a clever move that not only saves them from hefty capital investment but also gives users more variety in terms of their available workout options. Great as Peloton, Echelon, and NordicTrack's iFit capability is, everyone has their preferences when it comes to working out and instructor style, and this way, if you don't like one app, you can easily cancel and move onto the next. Furthermore, Horizon isn't scrapping built-in programming to make way for software the way we've been seeing from other brands, so you can simply just hop on and work out on these machines without an additional monthly subscription cost.
Cost to Value Ratio
Sale prices for Horizon treadmills range from $599 for the T101 to $1,999 for the 7.8 AT. Warranties on the parts range from one to five years depending on the machine in the full lineup, which includes:
Walking vs. Running Horizon Options
All Horizon treadmills are foldable, and the entry level GO series treadmills are more geared towards walkers and joggers than runners. The 7.4 AT and 7.8 AT are the best models in the range for running, featuring extended tracks for comfortable running strides. To visually compare all the Horizon treadmills, see our comparison chart below for a quick overview of track dimensions, motor power, and other crucial specs.
Check out our Horizon Fitness Comparison Chart: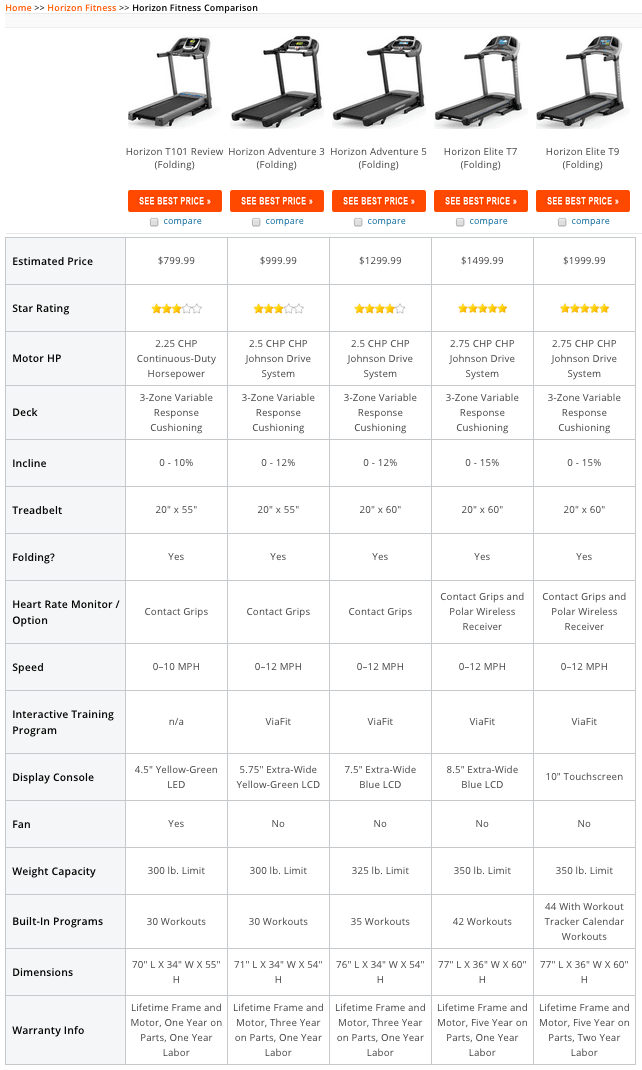 Our Verdict:
For buyers with small to medium budgets, Horizon treadmills offer good value for the money. The compact T101 in particular is one of our best buys for under $1000 since, although it saves on horsepower and track space, it benefits from other features not normally found in the price range.
Serious runners who train more regularly and intensely should look towards Horizon's Studio Series. These machines are large and powerful enough to accommodate the everyday runner's workout needs. These cardio machines won't last as long as more expensive options on the market, but they will keep users happy over years of training sessions.
Recent Updates
July 13, 2021: Added some FAQs to the page.
Horizon Fitness Treadmills FAQs
Is Horizon Fitness a quality brand?
For the shopper on a mid-range budget, Horizon offers great overall value. If you have a budget in the $1,000 range, it's definitely worth consideration.
Are Horizon treadmills any good?
Horizon Fitness offers plenty of wonderful options for those on a budget but still want a high quality treadmill with various features. Horizon treadmills offer good value for your money.
Who manufactures Horizon treadmills?
Horizon Fitness is part of Johnson Fitness & Wellness, one of the industry's fastest-growing fitness equipment manufacturers.
What apps can you use with a Horizon treadmill?
The apps compatible with your treadmill may differ depending on the treadmill model. Some of the apps that work with Horizon treadmills are Studio, Peloton, and AFG. You can see a full list of compatible apps on Horizon's website.
What is the best-selling Horizon treadmill?
According to the company, their T101 model is their best-selling. This is largely due to the fact everything from the running space to the price and features all fall within mid-range quality suitable for the average shopper.
How do you maintain a Horizon treadmill?
It's important to keep the belt lubricated and aligned. Complete instructions will be included, so make sure you keep them stored. Lubrication should take place every three months or 130 miles, whichever occurs first.
How long do Horizon treadmills last?
When properly maintained, a Horizon treadmill can last anywhere between seven to 10 years.