Bowflex Treadmill Reviews
Long before Bowflex treadmills were on the horizon, Bowflex was a home fitness pioneer. Back in 1986 the company began its journey with the Bowflex 2000X, a strength trainer that sounded futuristic at the time — and by introducing low-impact tension resistance it was truly revolutionary. Since then Bowflex has continued to innovate with all-in-one home gyms, treadmills, elliptical cross trainers, and treadmill-elliptical hybrids.
Today, Bowflex is an industry leader in home fitness, and its JRNY Fitness App is a big part of that. Most Bowflex pieces these days come with a year of the JRNY Fitness App included, but it typically only costs $19.99 per month, or $149 per year. Designed to work with any equipment from treadmills to dumbbells, it does a particularly great job at tracking progress on running machines. Trainer-led videos are of course a mainstay, but so are adaptive workouts with an artificial intelligence platform that tracks metrics and customizes routines to the individual's need. Bluetooth heart rate training and global workouts in locations around the Earth are also featured. But what makes JRNY so different for treadmill users is it's compatibility with Hulu, Netflix, Amazon Prime, and Disney+, as well as JRNY Radio. One common complaint about rival brands is that the treadmill screen only works with the app and not other entertainment channels. Problem solved here.
In addition to thousands of treadmill programs, the downloadable JRNY Fitness App can be used for anything from yoga to weight training and is of course designed to sync with other Bowflex machines in your home gym.
What do all Bowflex products have in common? Each is optimized for exercising with minimal harsh impact and achieving rapid results. These benefits are inseparable: That is, the reduced impact helps make the extraordinary Bowflex results possible. Bowflex treadmills and other Bowflex trainers let people exercise harder for longer, with less perceived exertion and less need for recovery time.
Below we introduce two series especially for treadmill shoppers. First Bowflex Max Trainers, which have special appeal to runners. To see how these machines match up against their rivals, check out our review here of Best Treadmill Alternatives. Then we check out the new Bowflex Treadmills for 2022. Bowflex treadmills are designed for all levels of training, whether walking, jogging, or running.
Bowflex fitness machines are manufactured by Nautilus, Inc. of Vancouver, Washington.
Max Trainers
Bowflex Max Trainers have special appeal to runners. These cross trainers allow the same sort of exercise as treadmills, but with reduced risk thanks to elliptical-inspired motion. You can pump your arms and legs as if running outside, yet you'll put virtually zero impact on your joints. Spending just a few 14-minute sessions per week can deliver rapid results for weight management, cardiovascular endurance and all-around body strengthening.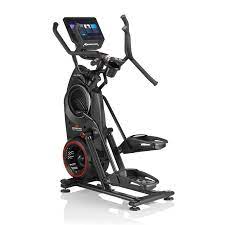 Max Trainers for 2022 are the M6, M9 and Max Total 16.  Prices range from $1,000 to $2,000. All the machines have roughly the same weight and dimensions. Some advantages of the higher models are more choices for resistance, more preset workout programs, and Bluetooth connectivity for data sharing.
The lineup starts out with the M6, which measures 46″ x 26″ x 64.2″ and weighs 148 pounds. Equipped with an interactive display, it offers 16 levels of resistance and users can utilize the JRNY Fitness App with it. This unit has integrated heart rate sensors in the handlebars. The M9 brings a 10″ console with HD touchscreen and 20 levels of resistance. In addition to integrated heart rate sensors it also comes with a Bluetooth armband monitor. This model measures 49.2″ x 30.5″ x 65.1″ and weighs about 148 pounds. The brand's top model is the Max Total 16 which comes with a 16″ console and HD touchscreen, 20 levels of resistance, heart rate sensors in the handlebars and a Bluetooth armband. It measures 49.3″ x 30.8″ x 65.7″ and weighs 155 pounds.
The machines work with, or without the JRNY Fitness App, but the larger two lose a lot of value in terms of their screens without it. All three units sport a 300-pound user weight maximum. The M9 and Max Total 16 carry a warranty of three years for the frame and parts, and a 90-day labor guarantee. The M6 has a two-year warranty on the frame and parts as well as 90 days for labor.
Bowflex Results Treadmills
New for 2022 are Bowflex home treadmills including Treadmill 22 and 10. These cardio trainers appear to be light commercial quality, but they're sale priced for home use at $1,499 and $2,499.
Both the Bowflex Treadmill 22 and Bowflex Treadmill 10 were designed with serious research and a commitment to durable design, and the effort shows. Strengths on each span from maintenance-free workout belts to Bluetooth-enabled consoles that feature per-minute estimates of calorie burn. The Treadmill 22 features an adjustable 22″ console with HD touchscreen, integrated heart rate sensors in the handlebars as well as a Bluetooth armband included, a built-in media shelf, and Bluetooth speakers. The unit comes with transport wheels and measures 85″ x 39.6″ x 70″ and rocks a 20% incline and -5% decline option with speeds up to 12mph. And yes, it folds.
The Treadmill 10 brings a 10″ console and HD touchscreen and also has integrated heart rate sensors plus a Bluetooth armband. The machines measures 85″ x 39.6″ x 65.3″ and can incline up to 15% with a top speed of 12mph. It also folds.
The Treadmill 22 costs $2,499 versus the Treadmill 10's price of $1,499. Both can sync with JRNY and Zwift, as well as Hulu, Netflix, Disney+ and Amazon Prime. Both feature a running deck of 22″ x 60″ and support up to 400 pounds of user weight. That's quite a bit. If you fall into that category and want to shop around, check out our review of Best Treadmills for Heavy People here.
The warranty for the Bowflex treadmills is 15 years for the frame and motor, five years for parts, one year for electronics, and 90 days for labor.
PROS
The Bowflex lineup brings a great fitness app, JRNY, to the market
Bowflex treadmills offer top level resistance
CONS
Without the JRNY Fitness App, the machine's screens lose value
Bowflex max trainer warranties are short for our liking
What We Like:

Effective Yet Low Impact: Bowflex fitness machines let people enjoy more comfortable workouts without compromising on challenge. Max Trainers offer zero impact for running — yet both options burn calories at rates you can't achieve on a treadmill. Bowflex treadmills are also built to optimize results with high quality cushioning and a power incline.
JRNY Fitness App: This app does bring a lot for the price. The fact you can sync with streaming entertainment services is a huge plus.
Upper Body Workouts: The upper body workout arms on Max Trainers are more powerful that what we see on elliptical trainers. Bowflex says they're up to 80% more effective at adding to calorie burn.
Multiple User Profiles: Each Bowflex treadmill or treadmill alternative can support at least two user profiles. Some can support four.
Amenities: Consoles on these units have extras such as oversized cup holders, accessory trays, tablet computer holders and USB charging ports.
Compact: Bowflex fitness equipment is designed especially for home use and takes less space than the competition. Max Trainers are full-body trainers but each demands less space than a treadmill. Additionally, the new Bowflex treadmills have foldable frames.
Good Pricing: The Bowflex lineup is very competitive within the market.
Warranties: The warranties for the Bowflex treadmills are very competitive for the market.
What We Don't Like:

Consoles: Bowflex equipment has some nice amenities but some machines lack the touchscreens, cooling fans and other special features that competitors might include. Depending on the model, workout guidance could be rather limited too.
Warranties: Residential warranties for Max Trainers are for one to three years, depending on the model. These are short warranties for fitness machines at these price points — but then again, they're not quite like any other trainers. Warranties for Bowflex Results treadmills are above average.
Our Verdict:
Bowflex treadmills and treadmill alternatives are produced by a well-established and reputable US-based company. It's popular worldwide for providing durable fitness equipment that allows remarkably efficient yet low-risk exercise. A bonus is that these home fitness machines have humble demands for floor space considering all they can accomplish. Previously the price range for all these benefits was more exclusive, but with Bowflex treadmills added for 2022 more options meet the typical shopper's home fitness budget. When you're shopping for a home treadmill or treadmill alternative, Bowflex is a great place to begin.
Frequently Asked Questions
Are Bowflex treadmills easy to assemble?
It's not a complicated process but we recommend opting for the in-home assembly. The parts are large and very heavy. If done without the professionals, make sure to have at least three people.
Do Bowflex machines work withouth JRNY?
Yes, but the machine goes into more a "store demo" mode and the screens lose a lot of value. If you're not interested in interactive training, we'd recommend buying a less expensive model.
Which are better, ellipticals or treadmills?
It really depends on your goal. If you're training for a 5k then definitely the treadmill. If you're worried about running-related injuries, then the elliptical is better.