ProForm Trainer 8.0 Treadmill
Best Buy Award(s):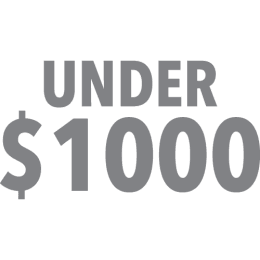 Under $1,000
If you're shopping for a high-quality, foldable home treadmill at a bargain price, the ProForm Trainer 8.0 is a great place to start. Priced online at $899, purchase includes a 30-day trial membership to the iFit workout app, free shipping, and a 30-day return policy. No bells and whistles, true. But the ProForm Trainer 8.0 brings the basics with plenty of options for even the most dedicated fitness fan.
Measuring 74.41″ x 35.04″ x 64.17″ and supporting up to 300 pounds in user weight, the treadmill features a folding SpaceSaver design. This allows users to pack the unit away in a closet after use. One of the values to the iFit workout app is that it can be downloaded onto any number of devices, including a smart television. At only 211 pounds, this foldable treadmill can be parked in front of the television or anywhere else about the house and moved with ease.
The treadmill comes equipped with a Bluetooth-enabled 5″ HD display, a built-in tablet holder, and dual 2″ speakers. Granted, a 5″ screen is relatively small compared to other units, but that's a big reason for the under-$1,000 price. The screen is designed with iFit in mind and does not work with other programs, but the treadmill can work independently of the app. I'd strongly recommend reading our review here of the iFit program as it really is a great app. I've used it extensively myself while cutting weight and feel it's worth the 30-day trial at minimum. If the $39 per month fee is a deal-breaker though, the good news is the ProForm Trainer 8.0 doesn't lock you into a giant screen that only offers manual mode if you opt out. The tablet holder comes in awfully handy at this point.
This treadmill features a 2.6 CHP Mach Z motor and a 20″ x 55″ tread belt. A running surface this size should work well enough for all but the tallest users, and this motor can handle jogging and sprint work. If you're shopping for a treadmill to help with marathon training or long distance, you might want to check out our review of treadmills for that purpose here. Incline options range from 0-10% with speeds up to 10 mph. Also, if you're wondering about treadmill motor sizes, you can read our analysis here.
In addition to a 30-day guarantee, purchase includes a 10-year warranty on the frame, with one-year for parts and labor.
What We Like:
30-day iFit Family Membership: Valued at $39, the one-month iFit Family membership allows you to sample the purchase before fully committing. In addition to a virtual library with thousands of workouts, the program offers Google Maps workouts around the world, live trainers, and exercise programs spanning the range of strength to yoga and Pilates. Heart rate training, nutrition, and personalized workouts are all part of the offerings.
Tablet Holder: If the 5″ HD screen is too small, you can always affix a tablet or other device to the treadmill for training purposes. The machine will work without the iFit app, and if you go that route, the tablet holder will come in handy.
Folding Design: The SpaceSaver design makes it incredibly easy to fold and store this treadmill.
Compact: At just 74.41″ x 35.04″ x 64.17″, the ProForm Trainer 8.0 is good for home usage.
Audio: The machine is Bluetooth-enabled and comes with a pair of 2″ speakers and an audio auxiliary port for headphones or other devices.
Quiet Motor: Although the 2.6 CHP motor isn't that powerful, it's long-lasting and quiet when in use. It's a sacrifice you have to make for the compact, folding design.
Warranty: The ProForm Trainer 8.0 comes with a 10-year frame warranty, 1-year parts warranty, and 1 year of labor coverage.
ProForm Trainer 8.0 Treadmill - Key Specs:
| | |
| --- | --- |
| Star Rating: | 4.5-stars |
| Motor: | n/a |
| Incline: | 0 – 10% |
| Running Area: | 20" x 55" |
| Folding: | Yes |
| Top Speed: | 10 MPH |
| Weight Capacity: | 300 LBS |
| Dimensions: | 74.41" L x 35.04" W x 64.17" H |
| Built-In Programs: | 0 |
What We Don't Like:
No Built-In Programs: Built to work with the iFit app, the treadmill lacks built-in programs. This is becoming more common amongst exercise machines.
Running Area: The ProForm Trainer 8.0 is a foldable model and this means more compact. The running area is fairly small at just 20″ wide and 55″ long and this might be too short for taller users.
Our Verdict:
The ProForm Trainer 8.0 Treadmill is a terrific buy for $899. Great for those wanting a chance to walk or jog in the home, it folds easily for quick storage. Certainly not a high-powered model, but let's face it, most folks really don't want all that baggage. This unit is easy to move around the house and yet durable enough to withstand frequent usage. Another big plug is the tablet holder as some customers don't want to be locked into a paid app. Whether you park it in front of a television, or simply use your tablet for music or training, it's easy to do.
ProForm Trainer 8.0 Treadmill FAQs
Can the ProForm Trainer 8.0 be used in manual mode without an iFit subscription?
Yes. As with other iFit-enabled machines by ProForm and NordicTrack, you can operate it in manual mode. This treadmill also features a tablet holder which allows you to use other apps at your leisure.
How much does the ProForm Trainer 8.0 Treadmill weigh?
The product weight of the ProForm Trainer 8.0 is about 211 pounds with a user weight capacity of 300 pounds.
Is the ProForm Trainer 8.0 Treadmill loud?
In our experience, this is one of the more quiet units on the market.