Freemotion t10.9 Interval Reflex Treadmill
Best Buy Award(s):
Serious Runners
High-End
This Incline Trainer Could Be For You If:
You are a personal trainer with a private studio.

Your training level requires an AC 5.0 HP motor.

You don't mind bringing your own screen or exercising to music.

You like the iFit workout app.

You value durability over price.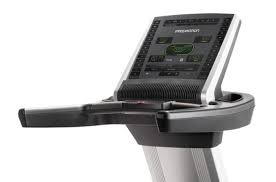 The Freemotion lineup of cardio gym equipment runs the gamut in features, but quality is a constant. The t10.9 Interval Reflex Treadmill sets in the middle of the pack, right next to the 10.9b Reflex Treadmill. Shy a few of the features of the other model, it still features a 5.0 HP AC Commercial Drive motor and a sturdy frame. Pricewise, the t10.9 Interval Reflex Treadmill comes in at $6,999 mark, with lots of marked down units available online. Really best bought by a small gym or personal trainer for studio use, the big value to the Freemotion lineup is their high-powered motor and superior parts. It's built to last long, hard workouts. Shoppers seeking a small unit for the occasional jog should consider some of these other high-end treadmills.
Part of the iFit family of exercise equipment, like NordicTrack, and ProForm, the t10.9 Interval Reflex Treadmill comes enabled for that app. As an iFit member myself, I'm a big fan. I used it while cutting weight for the NPC Indiana Natural Bodybuilding contest in June of 2022, dropping from 212 to 165 pounds and have to say it's a solid program. For a review of the iFit app, check here. That said, this treadmill does not feature a large interactive screen like some of its rivals and if you want app-driven workouts you'll need your own screen or a television nearby. Nor does it have pre-built programs. This treadmill has a Set A Goal Workout Center which calculates time, distance, and calories and that's about it. The one upside to having a simple interface is that you're really not locked into the $39 per month iFit membership and can always use another program by way of the screen of your choice.
From a performance perspective, the machine features a 5.0 HP AC Commercial Drive Motor and a two-sided REFLEX deck measuring 21.5 inches x 60. The double-ply belt rides atop 3.5-inch spin balanced rollers, which are significantly larger than the 2.5 norm. This is where the Freemotion models really shine here. The 5.0 AC motor is significantly more powerful than its peers and the bigger rollers atop a double-ply belt ensure longevity despite hard usage.
Workout metrics displayed on the user interface include Speed, Time, Incline, Distance, and Pace. The unit inclines up to 15% and has a maximum speed of 12mph. The t10.9 Interval Reflex Treadmill features EKG grip pulse sensors and comes with a Polar ANT+ Receiver for heart rate monitoring. Additional comfort features include a removable eight-inch fan.
A large unit, the treadmill measures 87.7 by 34 by 66 inches, weighs 487 pounds, and has a 12.2-inch step-up height. The warranty is where I see a lot of shortcomings for the Freemotion lineup. This model offers seven years for the frame and drive motor, two years for parts and the console, one year for labor, and six months for cosmetics. Most treadmills these days offer 10 years to lifetime on the frame. If you're a studio owner with lots of clients I can understand this, but given the price I'd expect a better warranty.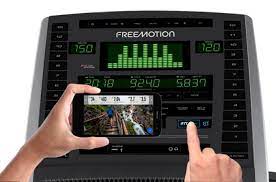 What We Like:
I've really come to love treadmill training for its year-round value. That said, I see a lot of pros and cons with the t10.9 Interval Reflex Treadmill. Some of the pros include:
Powerful Motor: Having an AC 5.0 HP Motor means longevity. This is especially true for heavier users and those like long distance runs. This kind of motor is capable of providing 1,500 pounds of lift force for the incline.
Spacious Deck: Measuring 21.5 inches by 60 inches, the 1-inch double sided deck is cushioned for comfort and support. This rides atop 3.5-inch spin balanced rollers.
Incline and Decline: With a 15% incline, runners can hit the virtual hills year-round.
Top Speeds: With a maximum speed of 12mph, runners won't outgrow this incline trainer.
High Weight Capacity: The machine can handle up to 400 pounds in user weight.
Heart Rate Monitoring: With EKG Pulse Sensors built-in, the unit comes with a Polar ANT+ receiver.
iFit-enabled: If you're interested in virtual training, iFit program brings live trainers into the home for workouts as diverse as running, biking, strength, and Yoga. Automatic trainer control means either the machine or trainer can adjust the resistance per the workout.
Not App-Dependent: Whereas other machines nearly require usage of the manufacturer's app, this one can work independently with or without it as it has no app-dependent screen.
Freemotion t10.9 Interval Reflex Treadmill - Key Specs:
| | |
| --- | --- |
| Star Rating: | 3.25-stars |
| Motor: | 5.0 HP |
| Incline: | 15% |
| Running Area: | Double ply |
| Folding: | No |
| Top Speed: | 12 mph MPH |
| Weight Capacity: | 400 LBS |
| Dimensions: | 87.7" L x 34" W x 66" H |
| Built-In Programs: | iFit |
What We Don't Like:
In our review the Freemotion t10.9 Interval Reflex Treadmill, here are a few potential drawbacks:

Price: At $6,999, this is best for a studio and not a hobby jogger.
Size: Weighing in at 487 pounds, customers should plan on solid flooring.
No Built-In Programs: The other Freemotion machines either come with a monitor or dozens of built-in programs. For the price we'd like to see one or the other here.
Warranty: Given the price and size, this unit should have a longer warranty on the frame.
Our Verdict:
The t10.9 Interval Reflex Treadmill is a high-dollar unit for the features it offers. I am a fan of Freemotion for the quality it brings, but frankly I'd recommend professional trainers and home-owners alike to consider the rest of that brand's lineup here. The biggest difference I can see between this model and t10.9b Reflex Treadmill is a lack of features and slightly lower price. If you're looking for hard core training and are shopping in this price range, consider the Freemotion i22.9 Incline Trainer reviewed here.
Frequently Asked Questions
How much does the Freemotion t10.9 Interval Reflex Treadmill weigh?
The machine weighs 487 pounds. Whether for home or a professional studio, a first-floor location and solid flooring is advised.
Does the Freemotion t10.9 Interval Reflex Treadmill require an iFit subscription.
No, the unit can work independently of apps.
What is the weight capacity of this treadmill?
This unit will support up to 400 pounds.