Echelon Fit versus iFit: A Comparison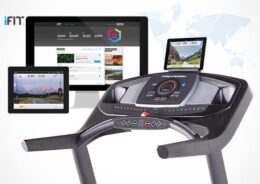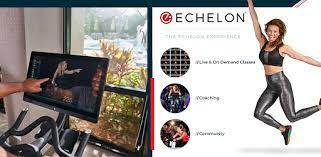 Echelon and the iFit family of exercise equipment make some of the best machines on the market. Be it a treadmill, a bike, or a rower, there's a reason for the titans to clash. But what about their apps? I've spent a considerable amount of time this year on a NordicTrack 1750 and Echelon Stride 5s with a chance to use both the iFit and Echelon Fit program extensively. There are pros and cons to both.
Priced nearly the same, the programs themselves are actually quite different. And that's what makes this such a great head-to-head comparison. If you're shopping for home cardio equipment, check out our review of Best Treadmills for Home Use here and you'll notice choice of training apps comes into play fast.
I've been competing as a natural, drug-tested bodybuilder in the NPC since 2012 and scored two first place finishes among others this June of 2022. A key component of my cut from 212 pounds in January to 165 in June was the use of these two programs while doing this review. Everyone has their own unique fitness goals, time budget, and frankly interest level when it comes to home fitness. Both the Echelon Fit and iFit programs can be downloaded onto multiple devices and work with or without the equipment. Yes, you could just get them and take to the gym, but depending on your goals, I'd quickly recommend one over the over. Read below to learn more and why.
Check out Echelon Fit
Check out FitU
Table of Contents
What Is Echelon Fit?
The proprietary app accompanying the Echelon lineup of equipment, the Echelon Fit membership brings both live and on-demand workouts to your home. In terms of price, the Echelon program is quite competitive. Priced month-to-month, the app is $34.99 per month. Or, for a one-year contract, that fee drops to $33.33 per month, and $29.16 monthly for a two-year contract. But in exchange for a two-year commitment, Echelon will also include with the purchase a free rower or EX-3 bike. This package affords up to five profiles per membership and more than 40 live fitness classes daily by professional instructors. A virtual library containing thousands of on-demand classes also comes with it. The Echelon FitPass is an $11.99 per month junior varsity version of the app for off-equipment workouts including aerobics, strength, and yoga. This is great for those that simply want to be part of the community without purchasing any equipment.
In case you're unfamiliar, Echelon produces the Connect Bike series, smart treadmills, rowers, and smart fitness mirrors. Most of the brand's machines which come with screens are designed to work with that program, but it can also be downloaded via Google Play or at the Apple App Store. Music for workouts comes by way of trainers' choices and a partnership with top record labels and artists like Pitbull, Lady Gaga, Jessie J, Daddy Yankee, among others. The trainer roster is more than 30 deep and a membership brings you access to at least 40 live classes per day, plus on-demand video workouts. Those on-demand trips include scenic rides, rows, or runs, through locations around the world.
Regardless of which equipment you use, or any at all, trainers offer their classes for biking, rowing, treadmill workouts, yoga, pilates, strength, and most of the other formats typically found on apps. Members can participate in the leaderboard and compete with fellows around the world.
Like most other brand-specific apps, Echelon machines with screens are built to work with their program alone. So no, you can't watch Netflix on the screen which is designed to work with this app. Echelon makes good equipment, so if you're planning on buying the machine without the app, I'd recommend getting a unit without a screen. A couple points from my own usage, the app's treadmill workouts are quite strong for High Intensity Interval Training (HIIT) but the routines for walking or hiking just aren't as numerous. Also, while using this app with my own treadmill here, I've had a few crashes and had to enlist customer support to figure out how to re-boot.
PROS
Diverse array of professional trainers and classes

Both live and on-demand classes 

Tracks personal performance and makes recommendations

Great music

Competitive price

Good for machine-based workouts or exercise-free

Can be downloaded onto devices including televisions
CONS
Treadmills that come with screens only work with this app

No automatic trainer control

App crashes do occur
What is iFit?
The iFit program comes to us by way of the company formerly known as ICON Health and Fitness. Re-branded and named for the app itself in June of 2021, this company produces NordicTrack, ProForm, and Freemotion machines. To see our review of Best Treadmills with iFit, check here. In terms of pricing, the iFit program is offered as an individual plan for $180 per year, or a family plan with up to five profiles at $396 per year, $39 per month. The company is heavily marketing the app and offers both the NordicTrack+ and ProForm+ deals where customers can effectively get a free machine with a four- or three-year commitment to iFit. NordicTrack machines involved include the C1100i treadmill, the S15i bike, and the RW700 rower. ProForm offers the Carbon T7 treadmill, the Carbon E10 elliptical, the Studio Bike Pro, the Carbon HIIT H10, and the Pro R10 rower. So, instead of buying the machine and the app, you'd just pay the $39 per month for the time commited.
What makes iFit unique is the automatic trainer control function designed to work with machines from the company's lineup. With either live classes, or on-demand, the trainer or program itself can adjust the resistance of the machine to match the routine. When paired with the iFit Bluetooth SmartBeat heart rate monitor, the machine can also adjust itself to match your heart rate. The array of classes availabe on iFit is also impressive. In addition to the myriad of fitness classes which range from equipment-based to equipment-free, Cooking Classes, iFit Mind, Global Workouts, and Google Earth workouts are also offered. NordicTrack, ProForm, and Freemotion all manufacture treadmills, rowers, bikes, ellipticals, fitness mirrors, and strength equipment, and classes are designed to match those interests and any other, frankly. This program brings a leaderboard and solid cast of professional trainers with a wide assortment of music options also.
The iFit app can be downloaded on mobile devices and smart televisions, with programs offered in their studios as well as on the road to locations around the world. Users can either use the equipment of the company, their own device, or simply enjoy the app for its programming. iFit-enabled screens do not work with other apps though. If you do buy a unit with a screen then it's really only good as long as you're using the iFit program. You can use the machine in manual model without it, but if you're planning on doing that I'd recommend getting on their machines with a tablet holder which lets you bring your own.
While using this app myself I've had no problems with crashing or technical issues.
PROS
Automatic trainer control with iFit-enabled machines

Both live and virtually unlimited on-demand classes

Three brands worth of machines which work with the app 

Wide diversity of class styles, plus mindfulness and cooking programs

Tracks personal performance and makes recommendations

Competitive price

Easy to download onto devices
CONS
Equipment with enabled-screens only work with iFit

The automatic trainer control only works on iFit-enabled machines
Who Should Buy Which?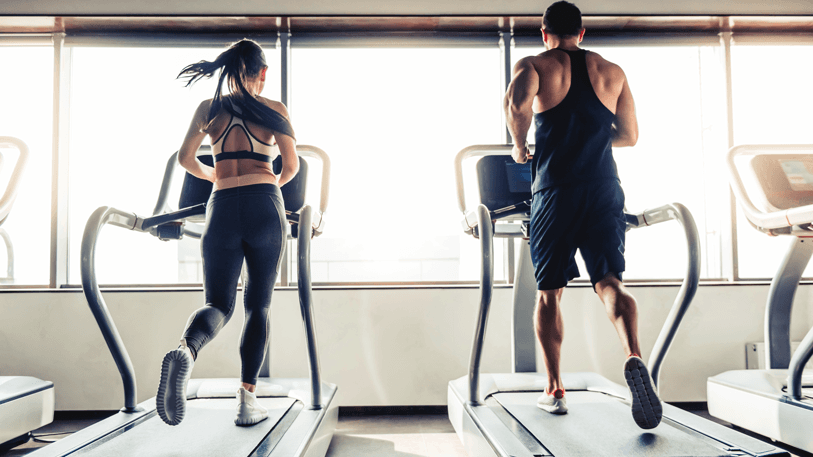 The future of home fitness equipment is certainly connected, so you might as well consider the brand's app potential when shopping. When it comes to Echelon, NordicTrack, ProForm, and Freemotion, the machines' screens are designed to work with their respective apps which can be a bummer if down the road you realize you don't like them.
Right off the bat, Echelon is a wee bit less expensive and offers a multi-year discount from $34.99 to $29.16 per month, as well as the FitPass option which is only $11.99, for equipment-free workouts. Compared to the iFit programming, Echelon's isn't as flashy and there is no automatic trainer control. If you're an average user who simply enjoys training with a live or pre-recorded trainer, this could be for you. I've had my own 76-year-old father do some training with me using the Echelon and its app and it's certainly enough for him. There's no question the music is great, the trainers proficient, and the leaderboard competitive. And if you want to go the FitPass route then you can get all of the machine-free HIIT and strength workouts you want.
But…
The big selling point to iFit is the connectivity afforded with automatic trainer control. It also syncs readily with the Bluetooth SmartBeat armband heart rate monitor, and when used together, you can let the trainer coach you through the workout with your cardio activity as a guide. In terms of quality, the iFit videos and live studio workouts are just one notch flashier and more dynamic, and the global workouts in places such as Scotland and Italy remind me of National Geographic specials they're so good. There's also a wide range of offerings in terms of nutrition classes and mindfulness. A single person's membership is $180 per year, or $15 per month, while the family plan is $39 per month or $396 per year.
That said, I wouldn't buy the iFit program without an enabled treadmill where the automatic trainer function comes into play. Without automatic trainer control, it's not that much different than the others.
So the more heavily you dig connected training, the more likely you're to be a fan of iFit. If you're looking for a great all-round app for exercise without the bells and whistles, Echelon it is. To answer the question of who should buy which, people who want automatic trainer control and are willing to buy a specific machine should go with iFit. Otherwise, Echelon is probably your better buy.
Rivals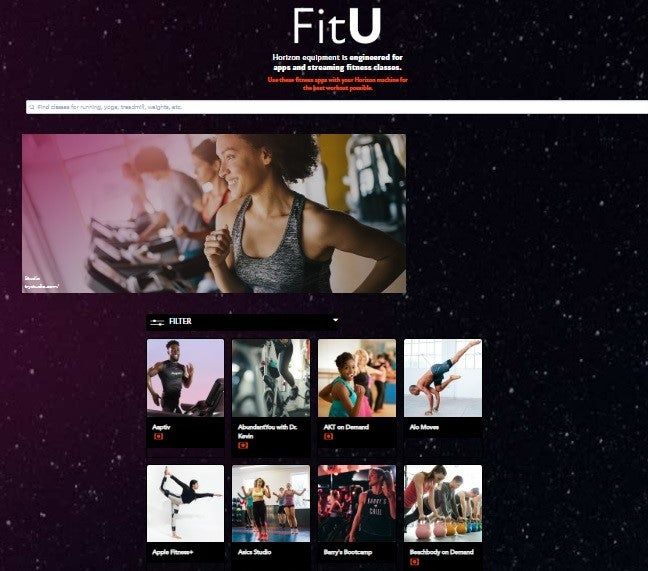 If you're shopping around for home exercise equipment and apps, check out our review of the Horizon lineup and its FitU program here. The biggest benefit to the FitU program is it serves as an umbrella app with about 30 other apps available through it. These include Peloton, Nike+ Run Club, and Runtastic. The biggest downside to both iFit and Echelon is their respect machine screens don't workout with other programs, and this is where Horizon has taken a completely different path and separated the machine from the programming.
Another brand-associated app is the Bowflex JRNY Fitness App which comes with its equipment, including treadmills. In a similar vein to FitU, the Bowflex JRNY program has partnered with Netflix, Hulu, Amazon Prime, and Disney+ to let equipment users explore other entertainment options when using their equipment. The JRNY system use an artificial intelligence program to customize users' performance and tailor workouts to suit their needs and features a virtual library containing thousands of routines. This program is also designed to work in conjunct with Bluetooth heart rate monitors.
For the Sole lineup of treadmills and equipment, the Studio app is available at $19.99 per month and brings a virtual library containing thousands of programs as well as Bluetooth heart rate programming.
Accessories
If you're planning to buy either the Echelon or iFit app as part of a treadmill purchase, you might consider picking up some extra pieces for floor work. Both apps feature strength workouts, yoga, and HIIT. The NordicTrack lineup of strength equipment includes the new iSelect Voice-controlled dumbbells which can automatically adjust between 5 and 50 pounds by vocal commands to Alexa. The unit comes with a holding case that features a tablet-holder and iFit workouts involving strength.
ProForm also offers resistance tube bands which can be used for workouts with any app or none at all. Again, if you're going to invest in the app fee, you might as well max it out and use it to the full extent.
Final Verdict
Connected fitness is here to stay, and if you've been shopping for treadmills you've noticed. While both the Echelon and iFit programs offer a diversity of programs and work with all their lineups, we'll focus on treadmills here. In terms of bang for the buck, you just can't beat the iFit program's automatic trainer control when paired with its own treadmills and Bluetooth heart rate adjustments. It's truly 21st Century home fitness and will do everything for you except make you a protein shake. This program also offers cooking classes, mindfulness, and floor work like stretching and yoga. The Google Earth workouts and travel series are also top notch as are the live trainers. That said, I wouldn't buy the program separately from an iFit-enabled machine where automatic trainer control was part of the package. To get this app without automatic trainer control just doesn't make sense.
The Echelon Fit app is a bit cheaper and for the average user it'll certainly do anything from simple jogs to marathon training. If you're shopping for an app to use on your own screen and use on different machines both at home or the gym, then this would be your choice.
Frequently Asked Questions
Can I use iFit or Echelon treadmills without the apps?
Yes, both lineups allow you to use the machine in manual mode.
Does Echelon Fit have automatic trainer control?
No, this program does control the machine like iFit.
Does the iFit app allow me to control any machine or just their own?
The iFit program's automatic trainer control only works on machines designed for that program.
Can I take these apps with me on the road or to the gym?
Yes, both apps can be downloaded onto devices.
Do either of these apps offer free trials?
Yes, both apps offer free trials for users to see if they'll like them.