Treadmill Deals: Save Big with Memorial Day Discounts
Memorial Day Weekend is a prime time for sales and deals of all sorts, and treadmills are no exception. As temperatures climb, treadmill sales naturally fall, leaving retailers and brands no choice but to sweeten their offers. On certain key sale days (like Memorial Day Weekend) shoppers can save big on the newest treadmill models from NordicTrack, ProForm, Sole and other leading brands.
Typically brands avoid the hassle of coupon codes, instead splashing these promotions across key pages on their online sales platforms. These treadmill deals are big, sometimes reflecting more than $1,000 in savings.
Top Memorial Day Sales:
>>See NordicTrack's Memorial Day Treadmill Sales
>> See the Bowflex Memorial Day Treadmill Sales
>> See Sole's Memorial Day Treadmill Sales
> See ProForm's Memorial Day Treadmill Sales
Word to the wise; not every advertised "discount" is as much of a bargain as it would first seem. Sadly, brands will occasionally raise prices shortly before the holiday just to make Memorial Day discounts appear more substantial than it really is. Not to worry, we can help. Alongside other useful information, our comprehensive treadmill reviews typically list the manufacturer's suggested retail price, so you can't get duped by this slightly back-handed sales tactic.
What can you expect to find on our site? Below are overviews of six types of treadmills: Treadmills for walkers, treadmills for runners, folding treadmills, desk treadmills, cheap treadmills and luxury treadmills. For all treadmill reviews please head on over to our homepage.
In addition to price, there are several key specs to consider when reading our reviews. Be sure to review what kind of warranty plan is offered on the model as manufacturers vary widely in this area, with some offering lifetime guarantees and others less than a year. Another point to consider is the size of the running deck, with these lengths varying within the 55″ and 60″ range. Screen size and workout programming is another option to consider here, along with incline and decline.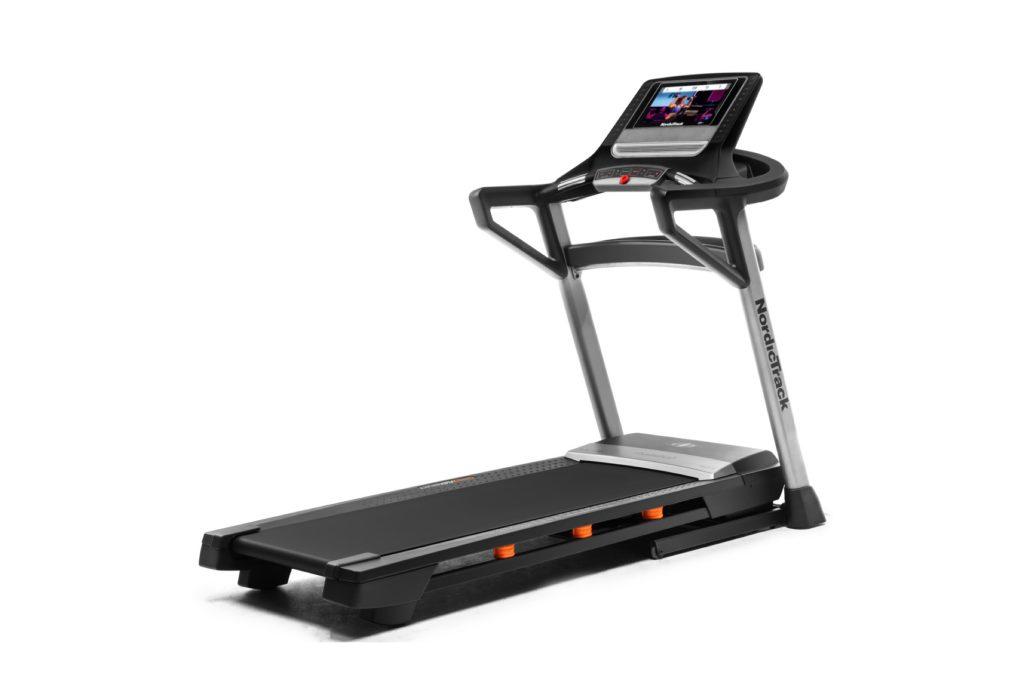 Folding Treadmill Deals
Folding treadmills are ideal for homes with smaller workout areas. Years ago most folding treadmills were poor performers compared with non-folding alternatives, but nowadays many are just as solid as traditional home treadmills. Folding treadmills are available in all price classes and with long enough tracks for running. Generally a folding treadmill costs slightly more than others, all things being equal, but Memorial Day discounts could make some of the best folding treadmills fit your budget.
If customers haven't been in the market for fitness equipment in a while, they might be in for a surprise. These folding treadmills nowadays typically come with large screens and ready for fitness apps, or even interactive programming, such as those with iFit Coach. This machine-based program allows live trainers to control the treadmill's speed and incline from remote locations while users participate in group workouts.
Treadmill Deals for Walkers
Walkers can get the lowest treadmill prices overall. Unlike runners, walkers generally don't need to invest in powerful motors or pay for extra track length. Our favorite treadmills for walkers have power inclines that help trainees dramatically increase calorie burn. Look for Memorial Day discounts on treadmills with 55″ tracks and up to 20% incline.
And don't mistake walking for anything but a great workout. The best treadmills for walkers these days have great function in terms of incline which make the hike a chore. Check out the different weight capacities afforded these units and make sure to get one that fits.

Treadmill Deals for Serious Runners
Treadmills for serious runners have even higher top speeds than regular treadmills, which can reach 10 or 12 mph. When comparing the Memorial Day treadmill sale offers, consider each contender's top speed along with cushioning and horsepower. Most runners are also interested in power ramps; the best treadmills for runners have automated inclines and some have automated declines too.
Serious runners should know in advance that length of running deck is key here. Make sure to have a good idea of what the necessary stride length will be. Also, this is an area where warranty might play a factor. The tread quality will be key if one is planning to pound a lot of miles out the unit.
Desk Treadmill Deals
Desk treadmills are treadmills with attached work surfaces. Their motors operate especially quietly to be office-friendly and can run at low speeds for hours at a time. Typically these treadmills are used at about 2 mph to burn hundreds of calories per day. Some desk treadmills also serve as traditional treadmills that can be used at higher speeds. Some have limited workout programming, since many users are only focused on work, but others have the same engaging workout programming that's found on traditional treadmills. Shopping the Memorial Day treadmill deals you'll see that popular desk treadmills have special features such as adjustable height, power strips for work equipment, and Bluetooth connections for downloading workout routines.
Cheap Treadmills
Plenty of cheap treadmills are on offer for Memorial Day. Low prices are attention-getting, but they aren't always good deals. Make sure that the warranty is a good fit for the product's quality and sale price. For help you can see our free in-depth treadmill reviews. Also see our selection of the year's best treadmills under $1,000.
With treadmills in this range, be sure to get a good look at the warranty. For folks who simply want a good treadmill for the home, this shouldn't be a problem at all, really. But one is planning to log marathon miles on the unit, consider the tread quality, cushioning offered, and weight capacity. Weight capacity listed on fitness equipment is generally a good indicator of overall durability.
Luxury Treadmill Discounts
Holidays are a good time to shop for high-end treadmills; Memorial Day discounts on top models can be thousands of dollars. Luxury treadmills are very low maintenance, have especially comfortable decks and are equipped with preset workouts. Many feature full-color touch screens and some are available with wireless connections, high definition TV, on-demand exercise programming and other perks.
Others goodies to look for include water bottle holders, power chargers for devices, and storage racks. Higher-end treadmills might offer both a screen in the 20″-plus range, as well as a tablet holder. Durability is certainly a consideration here, so warranty is a big issue.

Early Bird Savings
Memorial Day sales sometimes start early online. If you're ready to buy, check the manufacturer's sites as early as mid-May for Memorial Day treadmill deals. For help judging whether a sale is a true bargain, see our in-depth brand reviews and our best treadmill picks.
Additional Resources
Questions to Consider When Holiday Treadmill Shopping
Do manufacturers offer special financing for these treadmills?
Yes, each manufacturer offers their own line of financing options year-round, and with the holidays, that's another change-up to the offer.
Why would someone buy a treadmill before summer?
Frankly, the same reason people might buy air conditioners during the winter. The prices are typically a little lower, as should be the case with Memorial Day. Also, treadmills allow people to exercise any time, any day, and under any weather conditions.
Are treadmills safe?
Any piece of equipment can be a problem if not handled properly. Be sure to read through all of the safety instructions and follow protocol.